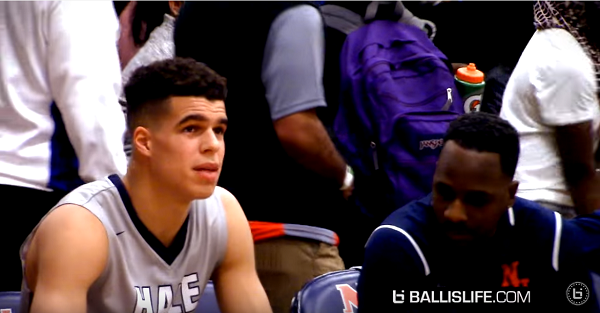 YouTube/Ball is Life
This will be controversial.
On Friday, five-star forward and the nation's No. 1 recruit Michael Porter Jr. announced that he would be playing basketball at Missouri.
Porter's five-star brother, Jontay, is also expected to head to Missouri.
The Porters are heading to Missouri after their father, Michael Porter Sr., as hired as an assistant coach with the school under new head coach Cuonzo Martin. Porter Sr. was originally at Washington, but he was dismissed after head coach Lorenzo Romar was fired.
Porter Jr., ranked the No. 1 recruit by the 247Sports player rankings, was committed to Washington up until the firings.
If Jontay Porter does indeed join the family at Missouri, the Tigers would immediately have one of the best rosters in college basketball for the 2017-18 season. After installing a new coaching staff this offseason, it would be a helluva way to breath some fresh life into the faltering SEC program.