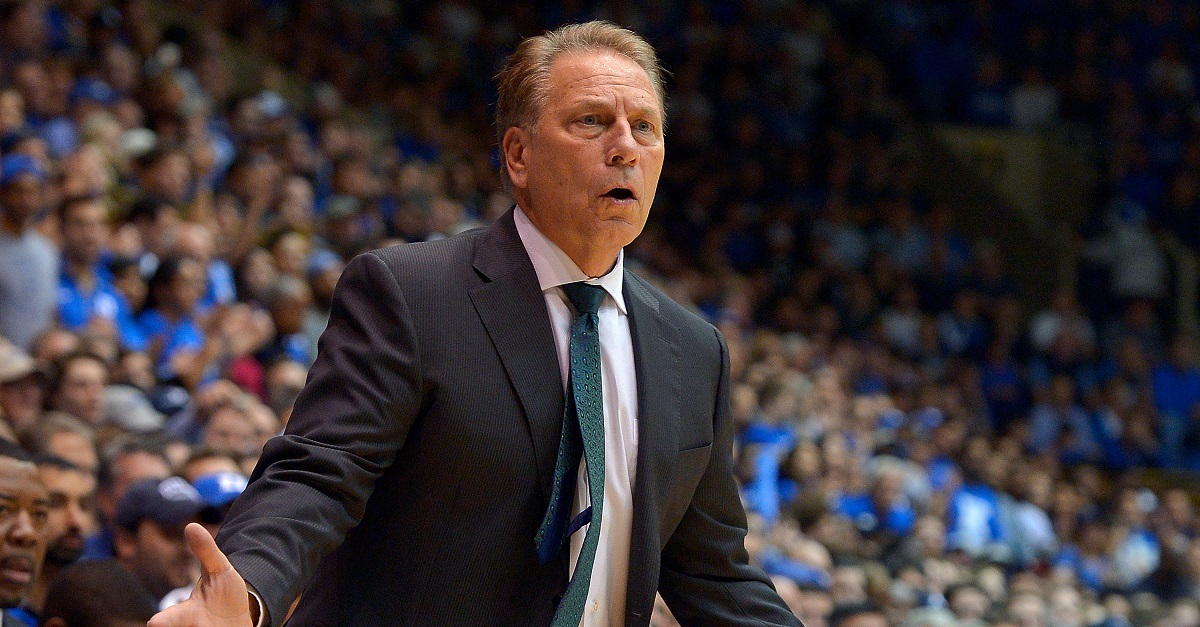 Grant Halverson/Getty Images
DURHAM, NC - NOVEMBER 29: Head coach Tom Izzo of the Michigan State Spartans reacts to a foul called against his team during the game against the Duke Blue Devils at Cameron Indoor Stadium on November 29, 2016 in Durham, North Carolina. (Photo by Grant Halverson/Getty Images)
The Michigan Wolverines put together an impressive NCAA Tournament run that came to an end with a close-fought loss against the Oregon Ducks. Prior to that, John Beilein's team zoomed through the Big Ten Tournament on the way to an unexpected title and that was predated by a wild and scary incident that resulted in Michigan's team plane barreling off the runway before takeoff.
With that as the backdrop, Michigan State head coach Tom Izzo made an unfortunate quip this week. In speaking with Mike And Mike on ESPN, Izzo said the following (h/t Wolverine247):
"I would never do this, but I could joke about it that I need to go find a plane right now because they sure have played well since that thing.
Izzo did attempt to downplay his attempt at humor by saying he "would never do this" but it still isn't a good look for the Hall of Fame coach. Fortunately, he did speak in more coherent terms about the Wolverines later in the interview:
?You know, I think I midway through the year, I think someone at Illinois called them out and (you've got to) give John Beilein credit, they wore blue uniforms at home because they wanted to become a blue collar team. But that whole team changed because of one guy if you ask me. (Derrick) Walton?s been good player there, but he has turned into a great player.

"The second half of this season he?s been at a completely different level.?
Given his reputation as a well-liked and well-respected figure in the industry, it is safe to assume that Izzo did mean anything malicious by his comments but this is one that he absolutely will regret. In the end, Michigan's run might have been spurred on by the near-tragedy experienced before the Big Ten Tournament but the Wolverines earned every inch of their conference tournament win and their galvanizing run in March.