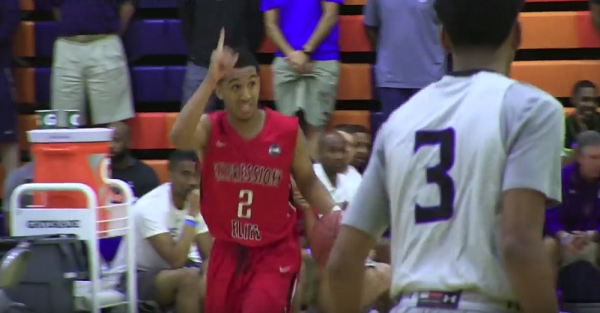 Quik 11/YouTube
Four-star guard Tremont Waters recently dropped a top seven list featuring Kansas, Yale, UConn, Duke, Kentucky, Indiana and Georgetown. He can only take five official visits so two of these schools will naturally get left out with UConn likely be one since Waters lives nearby.
RELATED: Tremont Waters drops top seven list
However, he only has three of his visits set right now according to multiple reports and they are to Kansas, Indiana and Georgetown. That leaves the Blue Devils and Wildcats off the list for now, but he could decide to use his last two visits to go there if he doesn't want to use an official visit on Yale.
Waters is a 5'11", 165-point guard who has serious bounce and a good knack for finding teammates in heavy traffic. He's slippery at his height and finds ways to get into the paint at will. ESPN has him ranked as the No. 1 player in Connecticut and No. 6 point guard in the class of 2017.
[h/t 247Sports]