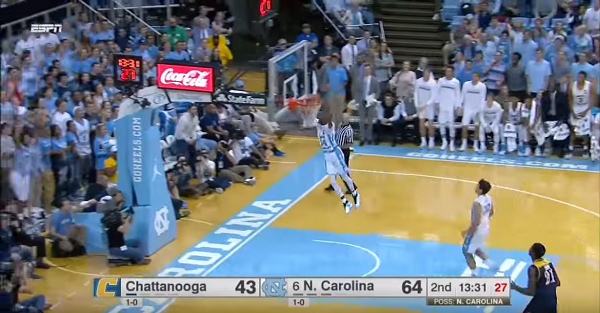 UNC Tar Heels Athletics/YouTube
North Carolina was expected to struggle a little bit with Chattanooga on Sunday, but the sixth-ranked Tar Heels absolutely dominated the Moccasins 97-57. Six players scored in double figures and this relatively inexperienced UNC squad took down a great mid-major team Chattanooga that starts five seniors.
RELATED: UNC's Pinson out indefinitely
Kennedy Meeks led the team with a double-double of 14 points and 12 rebounds to go with his three blocks and two steals. Point guard Joel Berry chipped in 18 points and five assists, Justin Jackson had 10 points and five assists and Isaiah Hicks had 13 points and five rebounds.
From the bench, Tony Bradley scored 12 points and boarded the ball eight times while  Kenny Williams had 11 points and six rebounds. The Tar Heels held the Mocs to about 35 percent shooting overall and 26 percent from beyond the three-point arc, which likely contributed to such a low score for them.
UNC next plays Long Beach State on Tuesday and then at Hawaii four days later.