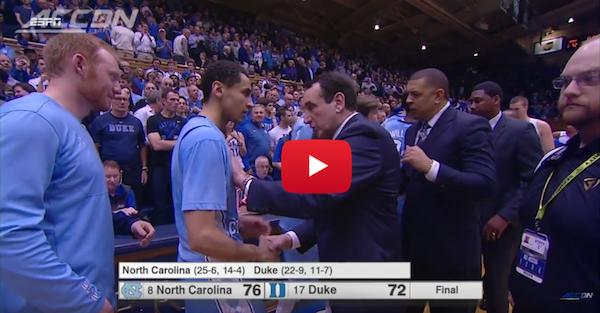 No. 8 UNC (25-6, 14-4) headed the eight miles over to Durham to take on No. 17 Duke (22-9, 11-7) on their Senior Night. The game shaped up to be another instant classic between the two teams with this coming out in favor of the Tar Heels 76-72. It was an ugly shooting night with neither team shooting better than 38 percent from the floor, but it was still just as riveting as the first meeting.
UNC had an insane night on the glass recording 64 boards and 27 of them were offensive! Meanwhile, Duke only had 29 rebounds, but was able to stay in the game thanks to 13 made three-pointers. Duke also had only six turnovers compared to UNC's 14 so that will help as well.
Duke's Grayson Allen fouled out of the game, but not before scoring 29 points and dishing out five assists. Brandon Ingram struggled only scoring 10 points and grabbing eight rebounds because he got into foul trouble early, but Luke Kennard came off the bench to score 20 points to help the Blue Devils.
That wasn't enough to overcome Brice Johnson's 18 points and 21 boards or Kennedy Meeks' 12 points and 14 boards. Joel Berry had 12 points and seven rebounds, Marcus Paige had 11 points and six rebounds and Justin Jackson had 13 points too. Hopefully we can see these two meet up in the ACC Tournament for a third time this year because that would just be epic.