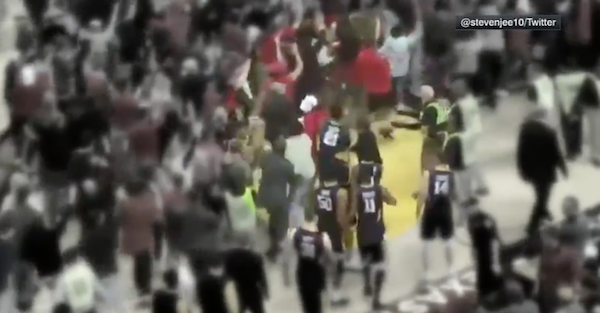 Clippit screenshot
Following a loss to the Texas Tech Raiders on Saturday, fans began to storm the court. Not anything new for college basketball. However, as some video shows, it appears an unidentified player for the West Virginia Mountaineers actually decked one of the court storming fans.
There's a lot going on in that video, but upon second replay of it, you can clearly see a fan bumping into one of the West Virginia players. Then, that player hurled a quick right in response after his back was turned.
Coaches were able to break it up before any real sort of donnybrook began.
This is an unfortunate event that could happen during these sort of things. Fans, who are just paying customers, running on the hardwood is great fun for them as well as the TV audience. At the same time, players have no idea the intentions of those storming the floor.
Point being: Fans storming the court are more dangerous than fans not storming the court. While this will come off as an old man yelling at a cloud, are we really valuing "fun court storming" over player-safety?
Anyway, that West Virginia player probably shouldn't have punched the fan. Then again, he had no idea what was happening or the intentions of the fan who bumped into him.