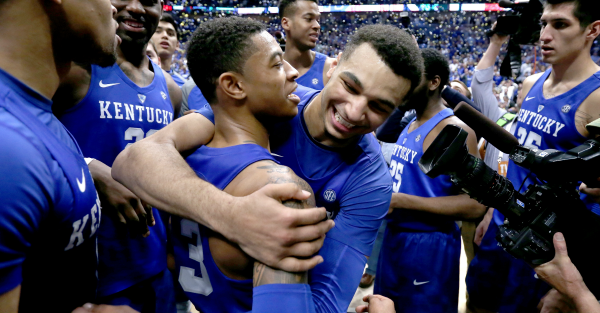 Kentucky is thought to be greatly underseeded as a 4-seed in this year's NCAA Tournament and that includes coach John Calipari. Kentucky will face a 13-seed Stony Brook team that just made it to its first ever NCAA Tournament, but has super scorer Jameel Warney at its disposal. This should be an easy dispatch for the Wildcats as they have tournament experience and excellent guard play.
That guard play is what is going to put this team over the top and get them to the Final yet again under Coach Cal. The Wildcats have also made it to the Final Four every year they have been seeded as a No. 4 seed or lower so history is also on their side. The backcourt of Tyler Ulis and Jamal Murray is going to be huge though as the two average 37.3 points per game together. That's about 47 percent of the points of the team's output from two guys.
Those two will be the most consistent part of the team even with high expectations from Big Blue Nation — as there are every year. Ulis is also averaging 7.2 assists per game, which means he is actually accounting for at least another 14 points per game by putting his teammates in a position to score. That will be huge as he does not have a Karl-Anthony Towns to work with this year who is a guy who could have gone out and gotten his own shot.
In a setting like March Madness where controlling the tempo and getting good shots every possession is paramount, good guard play becomes that much more crucial. With Murray acting as the primary scorer and shooter and Ulis as the facilitator, this Kentucky team could surprise some people and get to the Final Four. They will likely have to beat Indiana or UNC on the way there, but these guys are ready for that challenge.
If Kentucky wants to go that far they will need the front court to play its very best though. Skal Labissiere has shown signs of life near the end of the season and has played much better — at least when he isn't in foul trouble. Alex Poythress has been good for several double-doubles this season and he will need to continue being great on the boards, especially against UNC (if they meet) since the Tar Heels are such a good offensive rebounding team — they had the fourth-most offensive boards in the country this season.
If Kentucky can get past UNC then they might face the tall task of playing a pressing West Virginia team or Big East powerhouse Xavier. It's hard to predict that far ahead, but this Kentucky has a very good chance of getting to the Final Four at the very least and this would prove to be one of Calipari's best coaching jobs considering he is starting a former three-star recruit in Derek Willis and has him playing very well as his extra spacer and shooter.