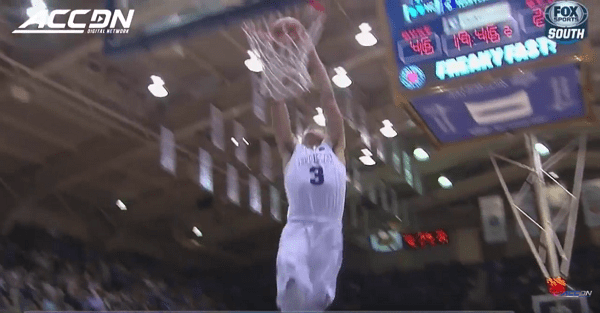 ACC Digital Network/YouTube
Duke was still playing without freshmen Marques Bolden, Harry Giles and Jayson Tatum when the Blue Devils took on Grand Canyon Saturday night and won 96-61. They had just hosted Marist on Friday night and will head to Madison Square Garden Tuesday for the State Farm Champions Classic against Kansas.
RELATED: Duke will hold out one star freshman despite clearance to play
Jayson Tatum was believed to be healthy enough to play, but was held out of both games this weekend just to be sure. It didn't matter as Duke still got the win and found out just how good guard Frank Jackson could be this season. He was the "lesser" of the five-star recruits from 2016, but had a spectacular night off the bench with 21 points, four rebounds and two assists.
RELATED: CBS Sports' Preseason Player of the Year is everyone's favorite guy to hate
Luke Kennard chipped in 14 points, six assists and five rebounds as a starter while the ACC Preseason Player of the Year in Grayson Allen led the team with 25 points and 10 boards. Amile Jefferson also had 15 points, seven rebounds and five blocks on the night to cap off a nice game for the Blue Devils.