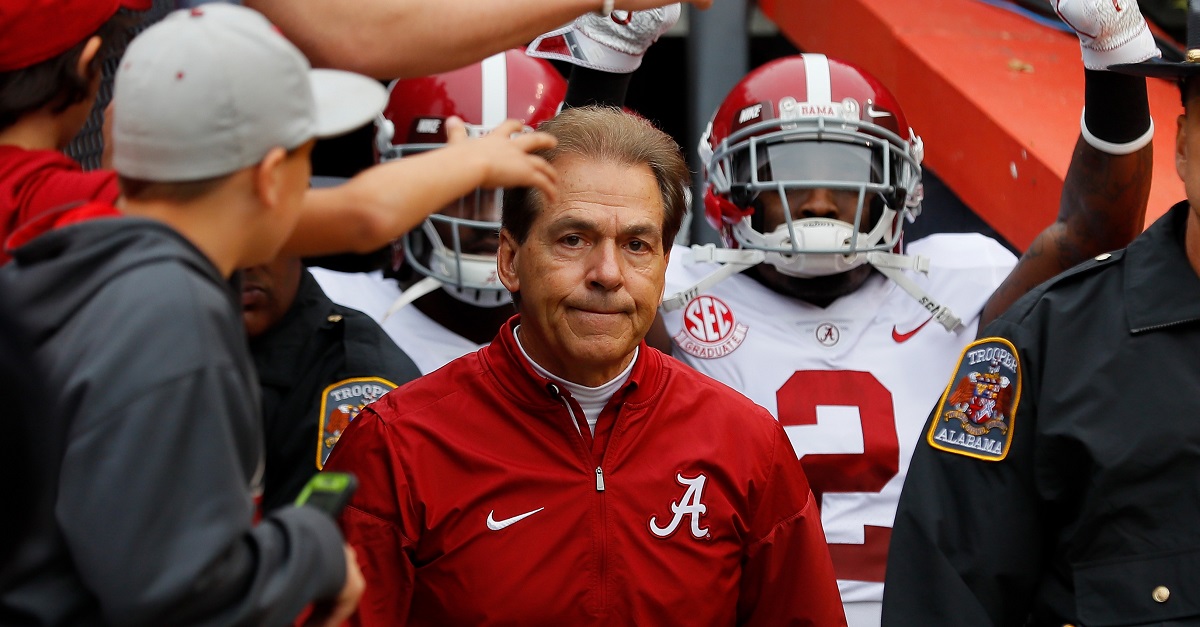 Kevin C. Cox/Getty Images
AUBURN, AL - NOVEMBER 25: Head coach Nick Saban of the Alabama Crimson Tide leads his team on the field prior to the game against the Auburn Tigers at Jordan Hare Stadium on November 25, 2017 in Auburn, Alabama. (Photo by Kevin C. Cox/Getty Images)
Will this be the way the College Football Playoff will end up?
The final AP Poll before the Sunday's Playoff selection has been release, and the AP Top 5 is as follow: Clemson, Oklahoma, Georgia, Alabama, and Ohio State.
Alabama is only ahead of Ohio State by seven points in the poll, so clearly the voters in that poll are having just as difficult of a time as everyone else is picking between the two for the final Playoff spot.
The full poll is below.
1. Clemson (43)
2. Oklahoma (18)
3. Georgia
4. Alabama
5. Ohio State
6. Wisconsin
7. Auburn
8. USC
9. Penn State
10. UCF
11. Miami
12. Washington
13. TCU
14. Notre Dame
15. Stanford
16. LSU
17. Oklahoma State
18. Michigan State
19. Memphis
20. Nortwestern
21. Washington State
22. Virginia Tech
23. South Florida
24. Mississippi State
25. Boise State