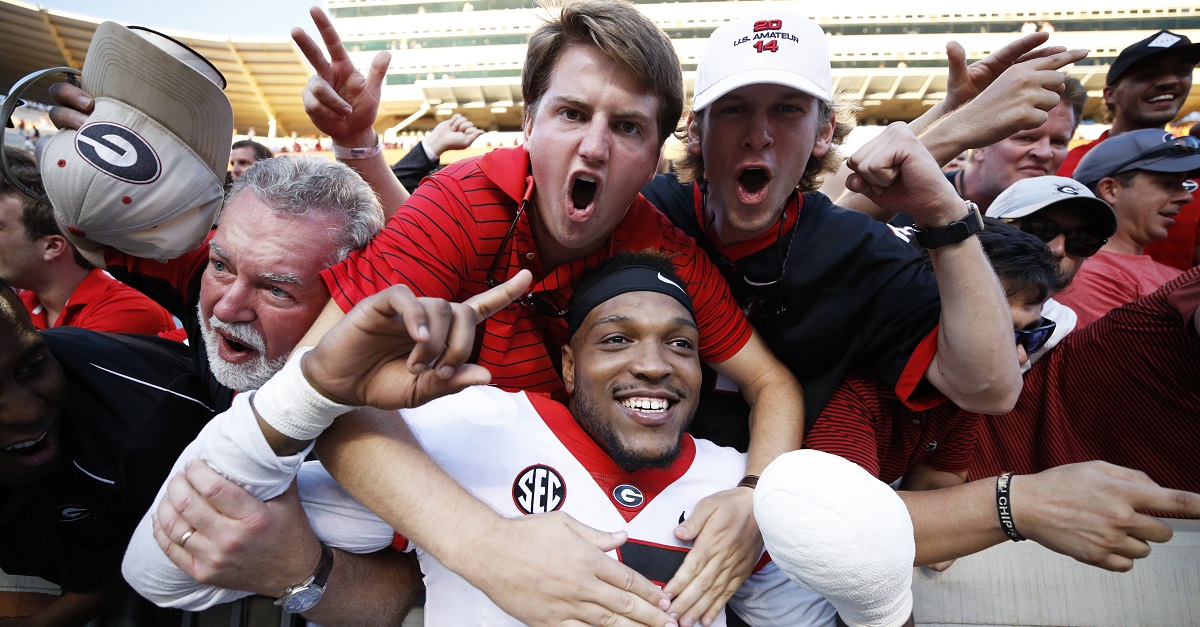 Joe Robbins/Getty Images
KNOXVILLE, TN - SEPTEMBER 30: Davin Bellamy #17 of the Georgia Bulldogs celebrates with fans after a game against the Tennessee Volunteers at Neyland Stadium on September 30, 2017 in Knoxville, Tennessee. Georgia won 41-0. (Photo by Joe Robbins/Getty Images)
After Week 5 of action, the Georgia Bulldogs are now a Top 5 team in the AP Poll.
Georgia blew out Tennessee in Neyland Stadium on Saturday by a 41-0 score, and the Bulldogs were rewarded with the No. 5 spot after USC lost on Friday to Washington State. Georgia was No. 7 the previous week, jumping Washington as well — who won 42-7 over Oregon State — in order to jump to fifth.
Another fun one: Clemson has gained more ground on the No. 1 ranking in the AP Poll. Last week Clemson had eight first-place votes, but now they are up to 17 while Alabama is down to 44. Oklahoma, who had a first-place vote last week, did not receive any after a BYE week.
The full poll:
1. Alabama (44)
2. Clemson (17)
3. Oklahoma
4. Penn State
5. Georgia
6. Washington
7. Michigan
8. TCU
9. Wisconsin
10. Ohio State
11. Washington State
12. Auburn
13. Miami
14. USC
15. Oklahoma State
16. Virginia Tech
17. Louisville
18. South Florida
19. San Diego State
20. Utah
21. Notre Dame
21. Florida
23. West Virginia
24. N.C. State
25. Central Florida