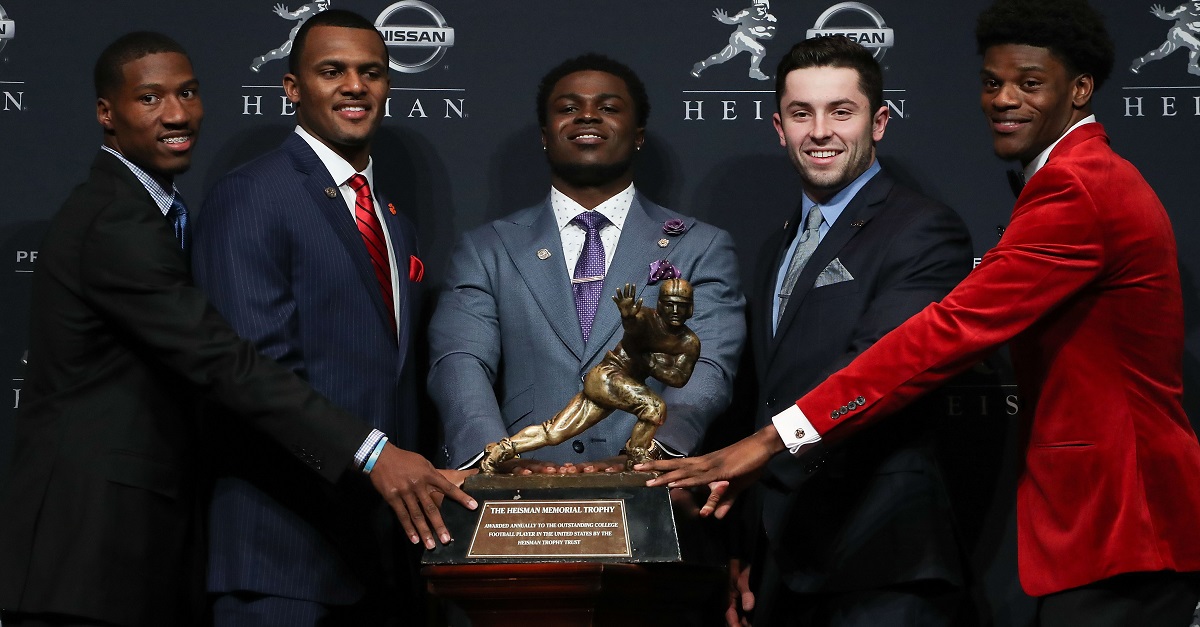 Michael Reaves/Getty Images
NEW YORK, NY - DECEMBER 10: (L-R) Heisman finalists Dede Westbrook of the Oklahoma Sooners, Deshaun Watson of the Clemson Tigers, Jabrill Peppers of the Michigan Wolverines, Baker Mayfield of the Oklahoma Sooners and Lamar Jackson of the Louisville Cardinals pose for a photo with the Heisman trophy during a press conference prior to the 2016 Heisman Trophy Presentation at the Marriott Marquis on December 10, 2016 in New York City. (Photo by Michael Reaves/Getty Images)
Two of the top three vote-getters from the 2016 Heisman race will return to college football for the 2017 season, but it's another name that is currently on top of ESPN's odds from the William Hill sports book.
According to those odds, USC quarterback Sam Darnold tops the list at 7-1, tied as the favorite with 2016 Heisman winner Lamar Jackson and second runner-up Baker Mayfield. Following those three are two quarterbacks from the 2016 College Football Playoff: Washington's Jake Browning and Ohio State's J.T. Barrett, both at 10-1 odds.
USC and Darnold were on fire at the end of the 2016 season, so it make sense that a lot of early bets would come in favoring the Trojans. Darnold already being up that high with Jackson and Mayfield, though? That's a tough bet to make at this point.
As far as value bets go, LSU's Derrius Guice at 20-1 is an interesting one that people might want to jump on. Guice essentially took over as LSU's No. 1 offensive option in the wake of Leonard Fournette's injury, and Guice performed well above expectations. In 12 games, Guice rushed for 1,387 yards on a remarkable 7.58 yards per carry. If Guice continues that dominance — and if LSU can get around 10 wins — then Guice would definitely be one of the top contenders.