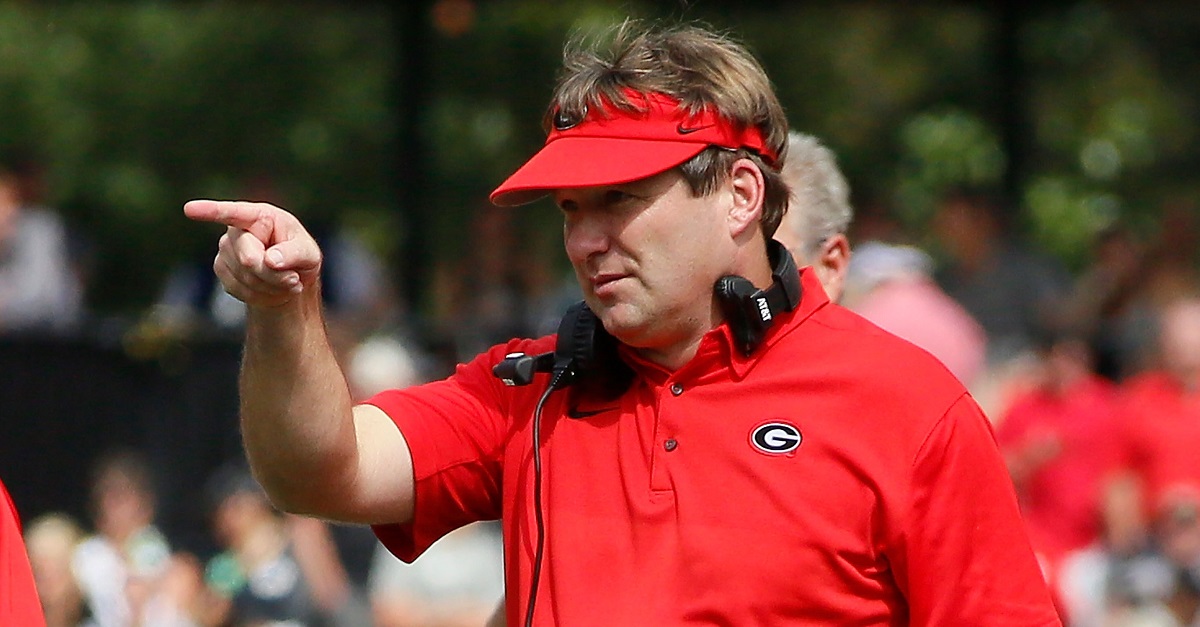 Frederick Breedon/Getty Images
NASHVILLE, TN - OCTOBER 07: Head coach Kirby Smart of the Georgia Bulldogs points to a player during the first half of a game against the Vanderbilt Commodores at Vanderbilt Stadium on October 7, 2017 in Nashville, Tennessee. (Photo by Frederick Breedon/Getty Images)
Another week of chaos in college football! Isn't this sport wonderful?
With another week under our belts, we have a lot more information to go off of. That means we have a new No. 1 team in the rankings, as well as an undefeated team that is falling again due to their lack of consistent performances.
Where does your team stand? Let's take a look!
---
1. Georgia — SEC, 8-0
LW: 3 — Result: W, 42-7 vs. Florida
It's weird to say that a game "wasn't as close as it looks" when the score is 42-7.
Georgia just dominated this game from the start, putting up three touchdowns within the first eight minutes of the game. That was really all they needed, and at that point the Georgia defense was well within control of this game.
Considering their dominant performances — and their wins over Notre Dame and Mississippi State looking better and better — Georgia moves into the No. 1 spot for this week.
2. Alabama — SEC, 8-0
LW: 1 — Result: BYE
I generally don't like moving teams down in a BYE week, but I think Georgia has proven enough right now to get a crack at that No. 1 spot. Of course, Alabama can take it back next week if they are able to impress against LSU.
3. Ohio State — Big Ten, 7-1
LW: 8 — Result: W, 39-38 vs. Penn State
Honestly, these next five teams might as well all be tied.
Going with Ohio State first here after their big win over Penn State. I know some might say that they "barely" won that game, but they did outgain Penn State by a wide margin, and you could argue the referee's whistle went against them for much of the game.
Regardless, they control their own destiny to get to the College Football Playoff.
4. Clemson — ACC, 7-1
LW: 6 — Result: W, 24-10 vs. Georgia Tech
Rain made this a nasty game to watch, but like they have for the past few years, Clemson was able to contain Georgia Tech's option offense. In even better news, quarterback Kelly Bryant didn't look too hobbled by his ankle injury against a decent Yellow Jacket defense, so hopefully things are right back on track for Dabo Swinney's team after their loss to Syracuse a couple of weeks ago.
5. Wisconsin – Big Ten, 8-0
LW: 3 — Result: W, 24-10 at Illinois
Wisconsin is undefeated, but they have just been… okay against most of their schedule? I think that could be a big breaking point for the Badgers, as their schedule is bad, they aren't playing great, and that schedule doesn't get much better. Contrast that with someone like Clemson, who has played seven opponents at .500 or better, including Virginia Tech and Auburn.
6. Notre Dame — ACC adjacent, 7-1
LW: 8 — Result: W, 35-14 vs. N.C. State
The past two weeks have been extremely impressive for Notre Dame, as these big wins over USC and N.C. State prove they are more than just a "quality loss" against Georgia. Notre Dame currently ranks in the Top 25 nationally in scoring defense and yards given up per play.
Doesn't get any easier for the Fighting Irish, either. The remaining four teams on their schedule — Wake, Miami (oh well get to Miami), Navy, and Stanford — are all over .500.
7. Oklahoma — Big 12, 7-1
LW: 11 — Result: W, 49-27 vs. Texas Tech
And just like that, Oklahoma is right back in the Playoff picture. As much as people are starting to bury the Big 12's chances of making the Playoff, Oklahoma is still 7-1, they still have games against Oklahoma State (this upcoming week) and TCU left on the schedule. There's also a good chance they could rematch against Iowa State in the return of the Big 12 championship game.
Considering they have the big win at Ohio State on their resume (think of how many people touted Ohio State's win at Oklahoma last year), it's going to be hard to ignore them if they win out.
8. Penn State — Big Ten, 7-1
LW: 2 — Result: L, 38-39 at Ohio State
If you are a Penn State fan, this might have hurt more than if they had just lost by two touchdowns.
Penn State held the lead for practically the entire game, but the big thing here is that Ohio State just kept coming back at Penn State while the Nittany Lions' offense just faltered. Saquon Barkley was eaten up by Ohio State's defense, and now Penn State is right back where they were last year: potentially on the outside looking in on the College Football Playoff.
9. Oklahoma State — Big 12, 7-1
LW: 10 — Result: W, 50-39 vs. West Virginia
They wound up giving up 39 points, but the Oklahoma State defense is really what won them this game. West Virginia was gifted with incredible field position TWICE in the first quarter due to Oklahoma State fumbles, but the Mountaineers weren't able to score a single point. Of those early fumbles, the Oklahoma State offense exploded out to a 24-3 lead, and West Virginia was never able to catch up.
10. Virginia Tech — ACC, 7-1
LW: 13 — Result: W, 24-3 vs. Duke
Score here really doesn't do this one justice; Virginia Tech was well on its way to an even bigger win before the elements interfered and made this one ugly. Still, it was a good win for Josh Jackson and Virginia Tech, and served as a great tuneup game for Miami next week.
11. TCU — Big 12, 7-1
LW: 4 — Result: L, 7-14 at Iowa State
Much credit should be given to Iowa State's defense, as they made TCU quarterback Kenny Hill an absolute non-factor in this game.
TCU's Playoff chances are still alive at this point, but it's looking really bleak at this point. A shame after they had been able to climb so high in the rankings yet again.
12. Miami — ACC, 7-0
LW: 9 — Result: W, 24-19 at North Carolina
Ever hear the adage "Good teams win, great teams cover the spread?" Well, that's very applicable here.
Obviously this isn't about covering some arbitrary number for Miami at this point. Close wins over Syracuse and Georgia Tech are fine; those are at least good, middle of the pack teams. Pretty much getting outplayed by a 1-win, really bad North Carolina team, though? That's not going to cut it any more.
If Miami beats Virginia Tech and Notre Dame in upcoming games, then everything is good. However, I really don't believe they can win those games. I'm not sure if they will be competitive in those games based on what we've seen in recent weeks.
13. Washington — Pac-12, 7-1
LW: 13 — Result: W, 44-21 vs. UCLA
Washington's Playoff hopes are still alive??? Things don't look great, as Washington will have to battle the same out-of-conference schedule issues that they did last year, but they do have games remaining against Stanford, Washington State, and a potential Pac-12 title opponent.
There's a lot of focus on how two Big Ten or SEC teams could get into the playoff, or even how Notre Dame could disrupt things. But a 12-1 Washington team could inject a lot of chaos into the Playoff selections at the end of the season.
14. Auburn — SEC, 6-2
LW: 15 — Result: BYE
Auburn was off this week, and they have a potential trap game at Texas A&M before they get Georgia at home the next week.
15. Central Florida — AAC, 7-0
LW: 17 — Result: W, 73-33 vs. Austin Peay
Austin Peay was actually surprisingly competitive in this game, putting up 26 points in the first half. Of course, Central Florida put up a 45 spot in the first half against that, so it didn't really matter at that point.
Central Florida still has the top scoring offense in the nation by averaging 51 points per game.
16. Iowa State — Big 12, 6-2
LW: NR — Result: W, 14-7 vs. TCU
Iowa State had one win ALL TIME against Top 5 opponents heading into this season (1-56-2). They now have two wins over Top 5 teams this season, having defeated Oklahoma and now TCU.
Iowa State is now bowl eligible, and here's where things could get really fun for them: they have a chance to go to the Big 12 title game this year, which could unlock an opportunity for their first 10-win season since… ever. Seriously, ever.
17. Arizona — Pac-12, 6-2
LW: NR — Result: W, 58-37 vs. Washington State
This might be the best way to describe Arizona with emerging quarterback Khalil Tate:
Arizona was 4-0 in October, largely thanks to Tate averaging over 200 rushing yards in those four games. His performances have allowed Arizona to become a real contender in the Pac-12, and he will have a chance to further his growing legend next week against USC.
18. USC — Pac-12, 6-2
LW: 22 — Result: W, 48-17 at Arizona State
This was finally the USC team that we had expected to see for most of the season, but it looks like a case of too little, too late for the Trojans this year. Obviously they shouldn't give up on the season entire, but it is disappointing that it took them this long to finally kick it into gear.
19. LSU — SEC, 6-2
LW: 25 — Result: BYE
Like Alabama, they had a BYE this week. The two teams will matchup in Tuscaloosa on Saturday.
20. Stanford  — Pac-12, 6-2
LW: 19– Result: W, 15-14 vs. Oregon State
I know star running back Bryce Love was out, but this ranks up there with Miami on the "what are you doing???" scale. Obviously they will be better once Love is back and healthy, but hopefully this was just a fluke and not an indicator of just how much their offense relies on Love.
21. Memphis — AAC, 7-1
LW: NR — Result: W, 56-26 vs. Tulane
This was really one of the more bizarre games of the weekend. Memphis jumped out to a 35-0 lead, but Tulane was actually able to get it back to a two-score game in the third quarter… until a fumble return for a touchdown pretty much ended their chances of a comeback.
Memphis is now in control of the AAC West division, with their only loss on the year coming to UCF, who is just rolling over teams at the moment. The two could rematch in the AAC title game, which could wind up being for a spot in a New Year's Six bowl game.
22. Washington State — Pac-12, 7-2
LW: 15 — Result: L, 37-58 at Arizona
I know Mike Leach has long been a practitioner of the the Air Raid offense, but Washington State threw the ball 84 times in this game. EIGHTY-FOUR! And 61 of those came from the backup quarterback!
However, Washington State didn't lose this game because of their offense. For really the first time this season, their defense faltered, allowing Arizona quarterback Khalil Tate to rack up over 400 yards of total offense. It's been hard to limit Tate in the past month, but the Cougs had been doing much better than this.
23. Michigan — Big Ten, 6-2
LW: NR — Result: W, 35-14 vs. Rutgers
A win over Rutgers isn't too much to be excited about, for Michigan, it was a decent enough performance to get them back on track after the sky was apparently falling last week vs. Penn State. Sophomore quarterback Brandon Peters finally got some extended playing time after John O'Korn struggled again, and Peters played well.
We will have to wait until next week to see how good he really is, as Michigan gets Minnesota next week.
24. South Florida — AAC, 7-1
LW: 16 — Result: L, 24-28 vs. Houston
Well so much for South Florida's New Year's Six chances….
In a vacuum, a loss to Houston isn't bad; Houston is a talented team. However, South Florida really needed this win to enhance their chances of a major bowl game, and with how they have struggled at times this season, it is a bit difficult to see them beating rival UCF and then likely Memphis in the AAC title game.
25. Mississippi State — SEC, 6-2
LW: NR — Result: W, 35-14 at Texas A&M
So it turns out that Mississippi State wasn't bad when they lost 31-3 to Georgia… Georgia is just that good this season.
With the win at A&M, Mississippi State has now won three straight, and they are now bowl eligible for the eight consecutive year. To put that into perspective, the team's previous best bowl streak before this one was three.
DROPPED FROM THE RANKINGS: NC State (18), Michigan State (20), West Virginia (21), Texas A&M (23)