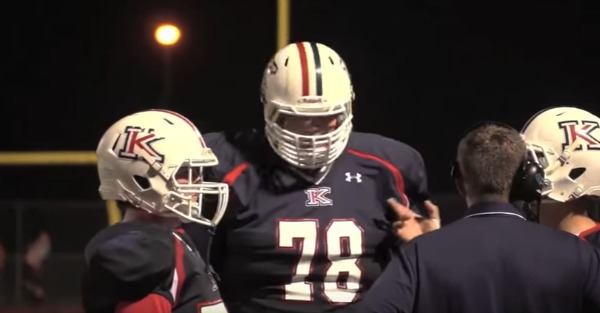 YouTube screenshot
https://twitter.com/BleacherReport/status/823982072150695937
A high school lineman who's so massive he's already bigger than anyone in the NFL , is opting to start out playing JUCO ball in the hopes of ultimately attracting some FBS interest.
John Krahn, a senior offensive lineman at Riverside, California's King High that goes a startling 7-foot, 440 pounds, will be playing at Riverside Community College next season.
But, according to online publication MEL, Krahn has yet to make a commitment and he's keeping his options open.
"I see it as an opportunity to get to (play) college football because it's getting my name out there," he said. "So if Tennessee, ASU, Boise State or Montana sees me and they're like, 'He might work here,' that opens doors."
RELATED: Nation's top DT Marvin Wilson hints at possible top contender
Ironically, Krahn's size could be the very thing that's keeping him from attracting FBS interest. With a reported 40 time of 7.5, his mountainous frame comes at the expense of his mobility, which recruiters see as limiting his effectiveness. One of the few junior college coaches that have taken an interest in him believes it's temporary, though, and playing in junior college could afford him the time to bring his footwork and quickness up to speed with his physical potential.
"I saw an article on the internet talking about this big kid that a lot of schools are passing up, said Valley Forge Military Academy and College head coach Dante Coles. "I just wanted to give him an opportunity to come be part of the family."
According to Bleacher Report, Wilson did have interest from Alabama at one point.