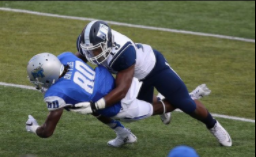 Jordan Blackwell Twitter
On Saturday, eight people tragically lost their lives in a shooting spree in Lincoln, Mississippi, and we're now getting more detail on the victims.
Among them — Jordan Blackwell, a linebacker with Brookhaven (Miss). High School who had his sights set on playing college football.
Blackwell was an incoming senior who had scholarship offers from Central Arkansas and Jackson State University, according to his Twitter account.
According to the Daily Leader, Blackwell was second team All-State this past season, when he had 86 total tackles and three sacks.
Blackwell was one of eight people killed — including a police officer — between Saturday night and Sunday morning at three separate locations, and police have apprehended a suspect in the slayings. Authorities still don't have a clear motive, and have yet to piece together how or whether the suspect knew all of the victims. The suspect, Willie C. Godbolt, 35, is in custody.