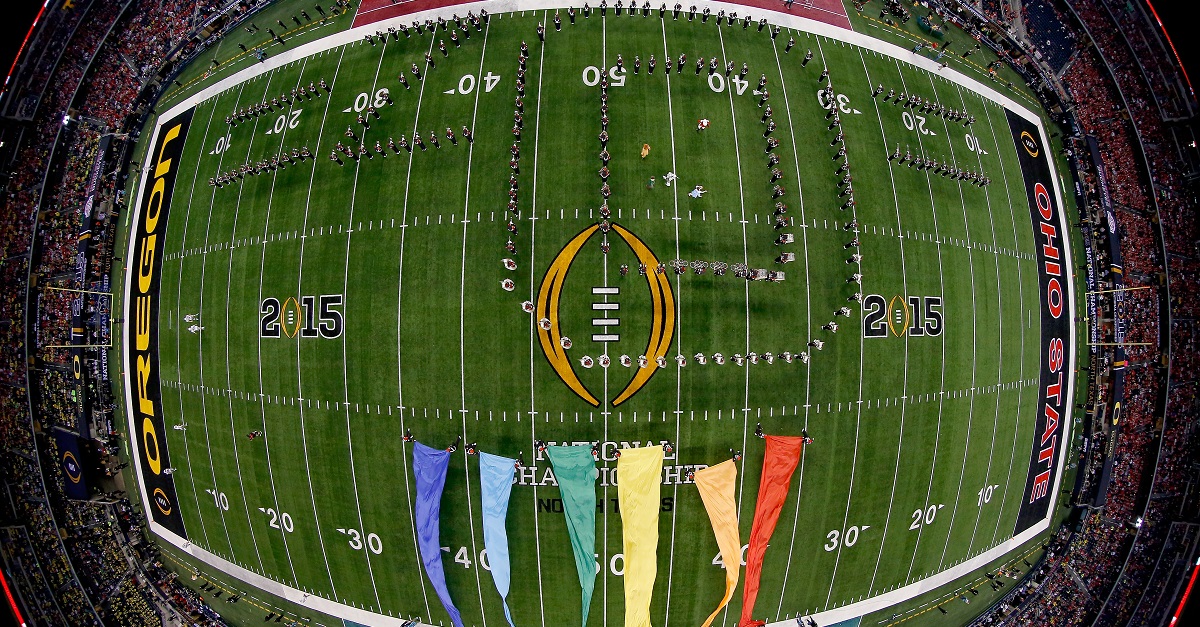 Tom Pennington/Getty Images
ARLINGTON, TX - JANUARY 12: The Ohio State Buckeyes performs before the College Football Playoff National Championship Game at AT&T Stadium on January 12, 2015 in Arlington, Texas. (Photo by Tom Pennington/Getty Images)
While the vast majority of attention is paid to the top four each week when the College Football Playoff committee unveils its rankings, there are other concerns each week. One such story line is the plight of UCF, as the team remains undefeated with impressive numbers in various metrics. However, the Knights can't seem to rise in the rankings and, this week, three-loss Mississippi State comes in ahead of Scott Frost's team on the heels of a very unimpressive win.
That particular slight has received some buzz and, on Wednesday, AAC commissioner Mike Aresco shared his gripes with a member institution not receiving love. In speaking with Heather Dinich of ESPN, Aresco noted that he does "not think (his) league is garnering the respect it deserves" and that he "feels strongly" about that conviction.
He wasn't done there.
"Those kinds of performances have to count for something. We've tried to prove for five years how good our conference is. What do we have to do is my question, to prove that we're a really good league, especially at the top? I just don't like the notion that, well, strength of schedule, I don't like to see UCF behind three- and two-loss teams, and I think they can play with anyone. I just don't know what more we can do."
Aresco's concerns are legitimate, especially when UCF is lambasting opponents on a weekly basis. In fact, there is a growing sentiment that Group of 5 teams are virtually powerless when it comes to the committee's blessing and this particular case won't help that.
The committee can say what it wants about UCF's schedule but, when run-of-the-mill major conference teams are ranked ahead for seemingly no reason, this kind of sentiment will occur.