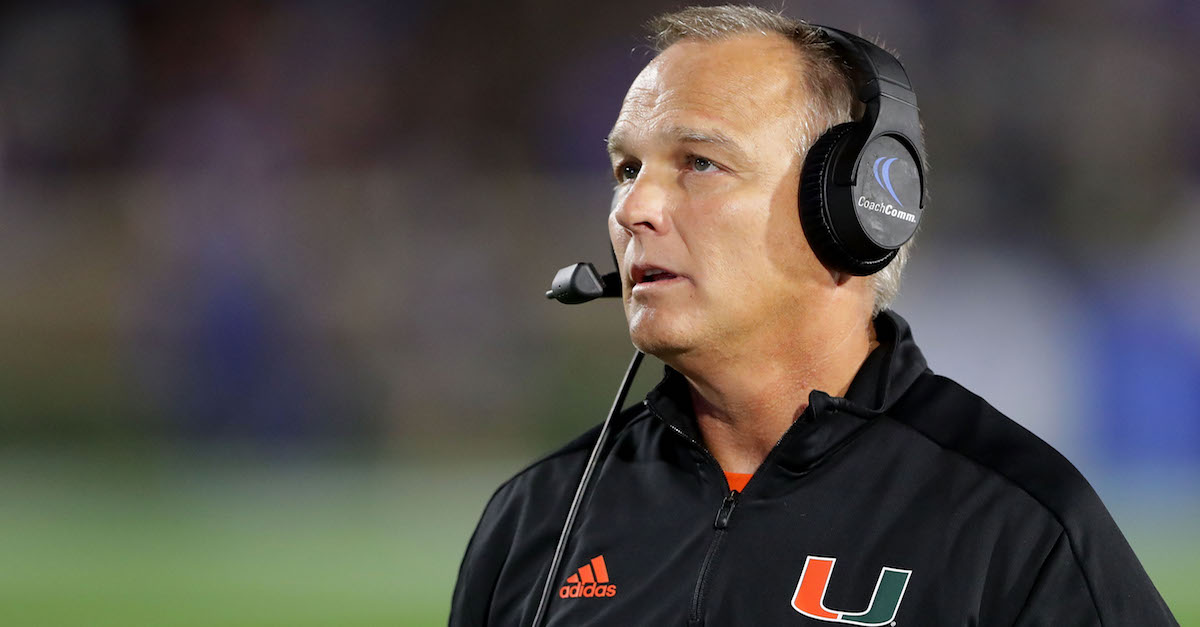 Streeter Lecka/Getty Images
DURHAM, NC - SEPTEMBER 29: Head coach Mark Richt of the Miami Hurricanes watches on against the Duke Blue Devils during their game at Wallace Wade Stadium on September 29, 2017 in Durham, North Carolina. (Photo by Streeter Lecka/Getty Images)
The Miami Hurricanes and Arkansas State Red Wolves were supposed to square off on the football field on Sept. 9, 2017 but the game was canceled as a result of weather conditions caused by Hurricane Irma. In that aspect, the game between the two programs wasn't close to alone but, in the aftermath, things have gotten markedly weird between the two institutions.
KAIT8.com brings word of letters sent from both Miami and Arkansas State and, in short, the Red Wolves would like the Hurricanes to pay $650,000 by Feb. 15. That number was reportedly included in the contract between the two programs signed back in 2013 and, if Miami isn't willing to fork over the cash, Arkansas State, at least in theory, plans to file suit against Miami.
The full letters (in the link above) are certainly worth a full read for context, but Arkansas State is essentially claiming that Miami could have made a way to play the game by following ASU's lead in creativity and simply chose not to do so. This is a story that is both bizarre and interesting on a number of levels and, in the end, it could theoretically result in a top-tier program from the ACC paying money to a mid-major in an effort to avoid a full-fledged lawsuit.
Stay tuned as more information becomes available.