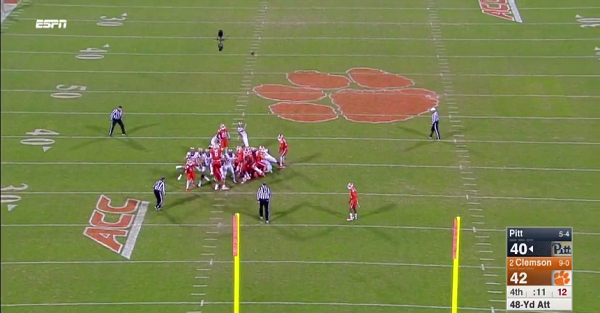 Clippit/bbornstein33
Despite totaling over 600 yards of offense, No. 2 Clemson (9-1,6-1) still found a way to lose to lowly Pittsburgh (6 -4 ,3-3) 43-42 on a last second field goal from Chris Blewitt. With 12 seconds left in the game, Blewitt hit a 48-yarder to absolutely stun Clemson.
RELATED: Dabo almost destroyed the refs for one of the worst calls of the year
Clemson could not return the kick for a touchdown and Clemson lost its first game against an unranked opponent for the first time in 45 tries. The Tigers will undoubtedly fall from their No. 2 spot and their insane 101 yards of penalties are the factor to blame.
Deshaun Watson was not his normal self despite setting a new Clemson and ACC record for pass yards in a game as he threw three interceptions with two of them in the red zone. Tuesday will tell us how badly the Tigers fall, but this does not look good going down the road. They'll need to win out and hope some other teams can lose to prop them up again.