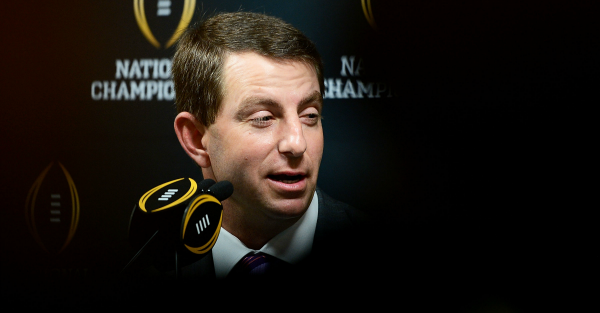 Clemson decided it was high time to reward head coach Dabo Swinney with a new and very lucrative contract. It will be worth $30.75 million in base salary over the course of its life and here's some of the breakdown until it runs out in 2021.
Based on 2015 salary numbers compiled by USA Today Sports, Swinney becomes the eighth-highest paid head coach in college football, in between Texas A&M?s Kevin Sumlin ($5 million in 2015) and Penn State?s James Franklin ($4.4 million.) Swinney retains the ACC?s second-highest salary, behind Jimbo Fisher?s $5.15 million.
Swinney is 35-6 the past three years and this new contract will completely replace the one he signed in 2014 after beating Ohio State in the Orange Bowl. Swinney picked up a $275,000 signing bonus on Tuesday and and is due retention bonuses of $600,000 if still serving as Clemson?s head coach on Jan. 1, 2019 and $400,000 on Jan. 1, 2021.
I would say that Swinney is pretty set and should be the Tigers' coach for a long time to come.