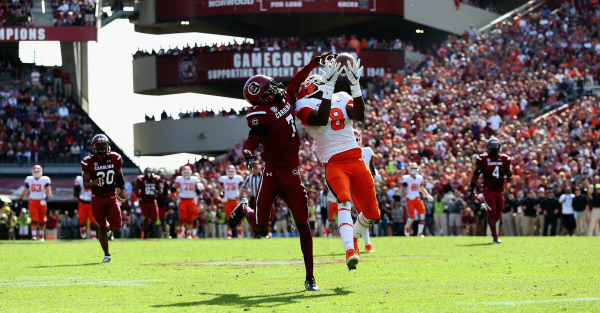 Clemson football got some good news and bad news on Monday when the Tigers started their first of 15 spring practices. Coach Dabo Swinney said that Mike Williams will be back and practicing with the team, albeit in a non-contact jersey. He'll do all workouts, individual drills and participate in non-contact sessions.
One receiver who won't be suiting up for spring ball is Deon Cain. He was suspended from the Miami game because he needed an "attitude adjustment" and was suspended from the team before the national title game because of a failed drug test. Cain is attending all team meetings and is scheduled to be present at team practices, but Swinney will not permit him to practice.
Cain caught 34 passes for 582 yards and five touchdowns ? he scored in five consecutive games for the Tigers ? in 2015. The yards were second-most among ACC rookies.