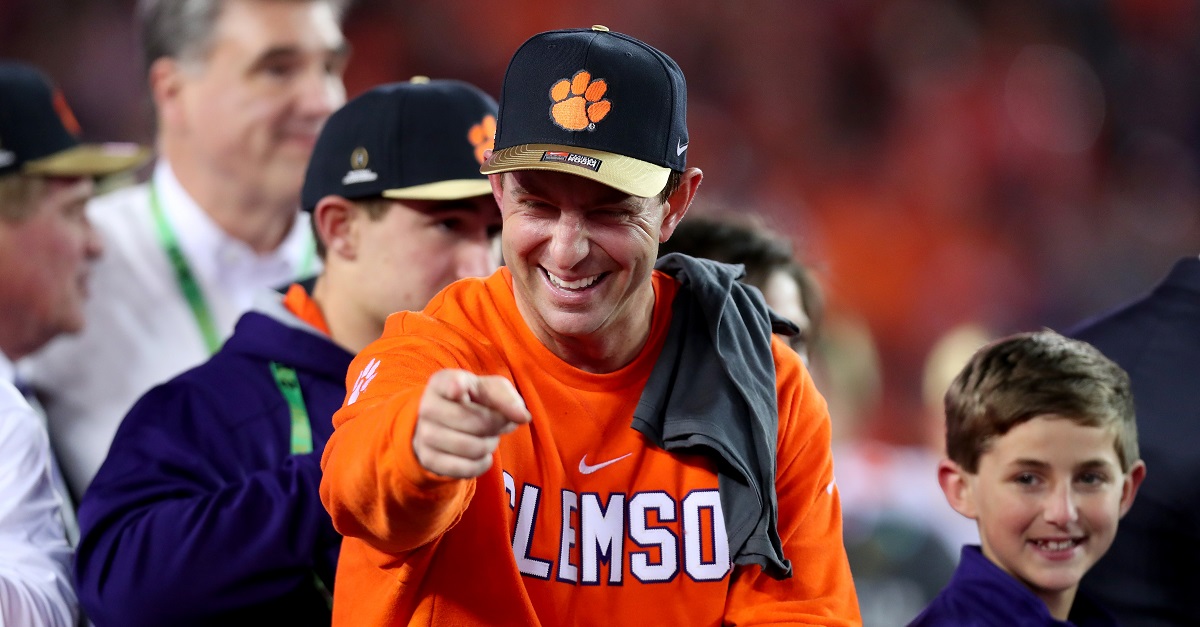 Tom Pennington/Getty Images
TAMPA, FL - JANUARY 09: Head coach Dabo Swinney of the Clemson Tigers reacts after defeating the Alabama Crimson Tide 35-31 to win the 2017 College Football Playoff National Championship Game at Raymond James Stadium on January 9, 2017 in Tampa, Florida. (Photo by Tom Pennington/Getty Images)
Clemson has been pretty incredible so far in the 2018 recruiting cycle. The Tigers have landed the top two recruits so far in quarterback Trevor Lawrence and defensive end Xavier Thomas. While it's incredibly early in the cycle with potential for a lot of change over the course of 10 months, the Tigers are in a pretty good spot right now.
RELATED: Kirk Herbstreit makes big prediction about Dabo Swinney's future with Clemson
In fact, they could become the only school in the history of 247Sports recruiting rankings to land the top two players in a class. There have been a few schools that came close according to 247Sports and they are probably the ones you expect to see:
In the history of the 247Sports Composite, no program has managed to ink the No. 1 and 2 overall players in the country in the same class.

Teams have come close – Florida in 2010 (1 & 4), USC in 2005 (2 & 3), Oklahoma in 2004 (1 & 4) and Florida State in 2002 (2 & 4) – but nobody's been able to land both top dogs.
Alabama has surprisingly not done it yet and apparently hasn't even come close so that's yet another feather in Dabo Swinney's cap and something to hold over master recruiter Nick Saban. Of course, either of those recruits could end up decommitting or they could fall in the rankings system, but even if the latter happens the Tigers are still getting some pretty darn good players.
[h/t The Spun]