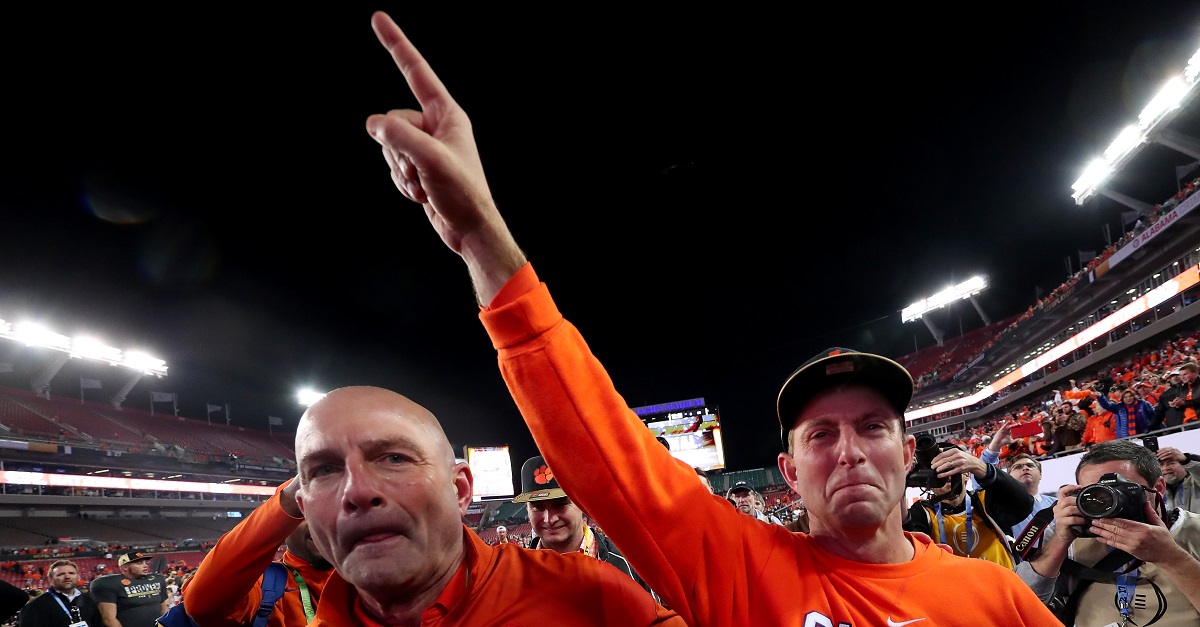 Tom Pennington/Getty Images
TAMPA, FL - JANUARY 09: Head coach Dabo Swinney of the Clemson Tigers (R) reacts after defeating the Alabama Crimson Tide 35-31 to win the 2017 College Football Playoff National Championship Game at Raymond James Stadium on January 9, 2017 in Tampa, Florida. (Photo by Tom Pennington/Getty Images)
There's a few perks when you win the national title game. Everyone loves you, you go to Disney World, you probably land a few extra recruits and you get massive bonuses. The Tigers staff got almost $3 million in bonuses for winning the title and bringing it back to campus for the first time since 1981.
RELATED: Deshaun Watson's legendary championship performance downs Alabama's dynasty
Of course, the head coach got the most money, raking in a ridiculous $1.45 million while 16 staffers received at least $70,000 in bonuses. Each of the nine on-field assistants made $95,000 while strength coach Joey Batson and associate athletic director for football administration Woody McCorvey also received that amount.
Aside from revenge on Alabama for last year's national title loss, the money is a pretty good reason to push the kids hard and get the win that matters most in college football.
[h/t Associated Press]