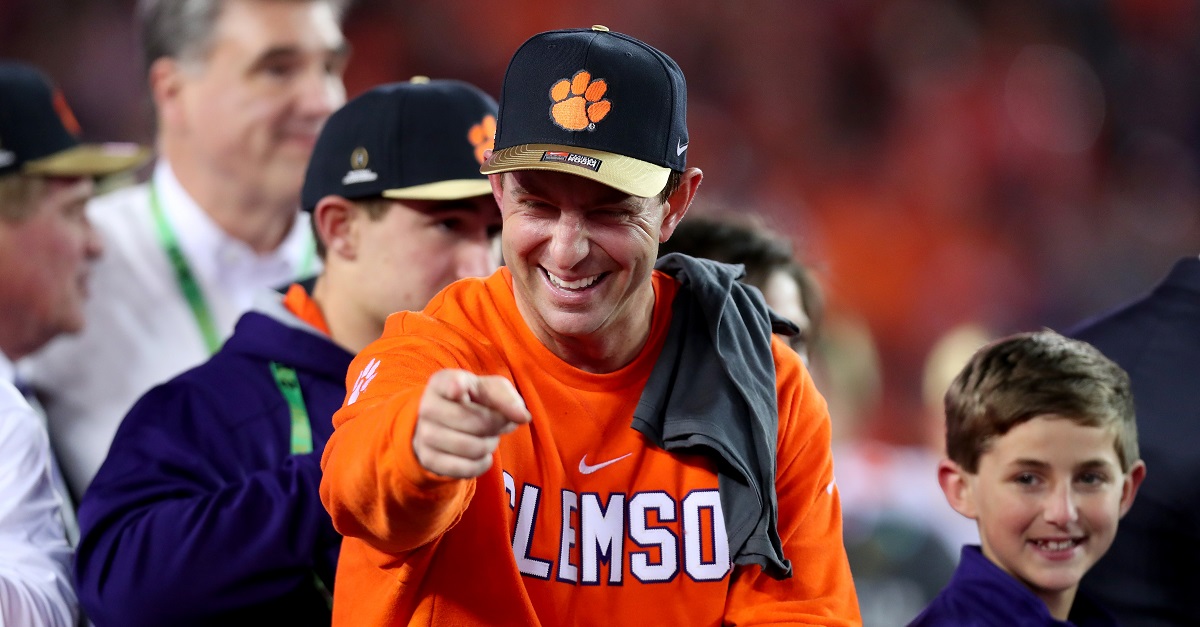 Tom Pennington/Getty Images
TAMPA, FL - JANUARY 09: Head coach Dabo Swinney of the Clemson Tigers reacts after defeating the Alabama Crimson Tide 35-31 to win the 2017 College Football Playoff National Championship Game at Raymond James Stadium on January 9, 2017 in Tampa, Florida. (Photo by Tom Pennington/Getty Images)
Deshaun Watson and the Clemson Tigers were able to outlast the Alabama Crimson Tide in a (very) memorable College Football Playoff victory that provided Dabo Swinney with his first national title. As is customary, that championship win paves the way for a White House visit from the team in the future and, in speaking with David Hale of ESPN, Swinney confirmed that the trip will be taking place on June 12.
With a controversial leader in Donald Trump and the background of athletes that have skipped, or plan to skip, the visit, Swinney was asked about who on the team would be attending. He said the following:
"Everybody's invited. I'm not sure if drafted guys can make it due to minicamps, but I'm sure most of the team will go. If someone doesn't want to go, that's no problem. But it's a great opportunity and experience for the team."
The piece also indicates that Swinney has not heard of anyone on the team planning to boycott for political reasons, though it would not be a surprising development. Beyond that, there is a decent number of Clemson players (headlined by Watson) now preparing for NFL life that could keep a few of them away from Washington D.C.
The story will really begin if any publicly elect to voice their views and/or boycott but, for now, it seems like most of the Clemson football team will be there.