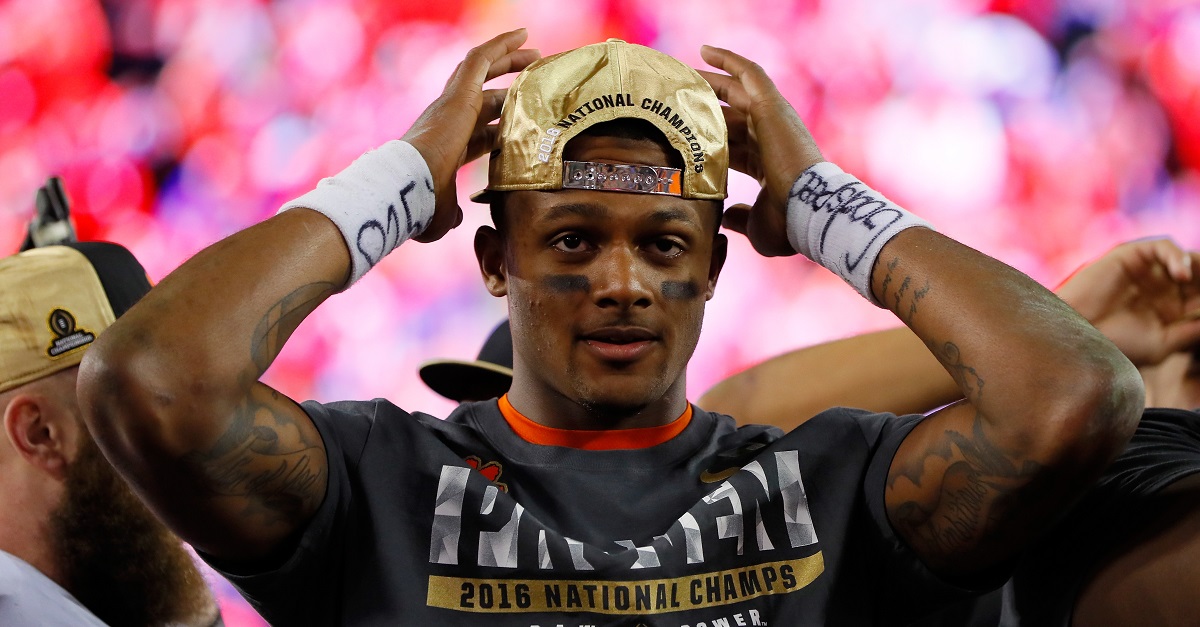 Kevin C. Cox/Getty Images
TAMPA, FL - JANUARY 09: Quarterback Deshaun Watson #4 of the Clemson Tigers reacts after defeating the Alabama Crimson Tide 35-31 to win the 2017 College Football Playoff National Championship Game at Raymond James Stadium on January 9, 2017 in Tampa, Florida. (Photo by Kevin C. Cox/Getty Images)
There has been great debate about where Clemson quarterback Deshaun Watson should be taken in this draft. ESPN's Mel Kiper had him graded out as a second or third-round prospect, but many people have moved him into the first round because of his epic performances in the last two games of the season against Ohio State and Alabama.
Kiper went on "First Take" late last week and warned of overdrafting Watson and gave a pretty good comparison to another star who was taken way too early in the draft.
"Keep in mind he (was projected) second or third round entering the final four," Kiper said. "Do two games all of the sudden make him the No. 2 pick in the draft? It possibly did. Did one game make Vince Young the third pick in the draft? Yes, it did. How did that work out for Tennessee? So you've got to be careful here not to elevate too much to overdraft. We know at the end of the day [North Carolina quarterback Mitchell) Trubisky and Deshaun Watson are going to be majorly overdrafted."
RELATED: The most unlikely player outperformed Deshaun Watson at the NFL Combine
He also gave his reason for why Watson should be taken later and why we should take those last two games with a huge grain of salt.
"He had a great final four for the second straight year," Kiper said. "He played incredible against Alabama and Nick Saban's defense. He goes to the Combine – threw the ball well. But if you go back to the beginning of this midseason, he was considered a second- or third-round pick for a reason. He was struggling – in the pocket, making bad decisions, inaccurate throws – and he had Mike Williams who he didn't have last year. He had everybody intact on offense and Mike Wiliams returning and still was struggling."
He missed on his deep throws more often than not and had trouble going through his reads even with a clean pocket at times. Kiper's cautionary tale of Vince Young going so early might dissuade some teams from thinking about taking him in those first 12 picks, but there is likely to be one team desperate enough to pull the trigger anyway. Hopefully Watson can overcome any "overdrafting" issues and prove that he's the QB everyone wants him to be in his NFL career.
[h/t 247Sports]