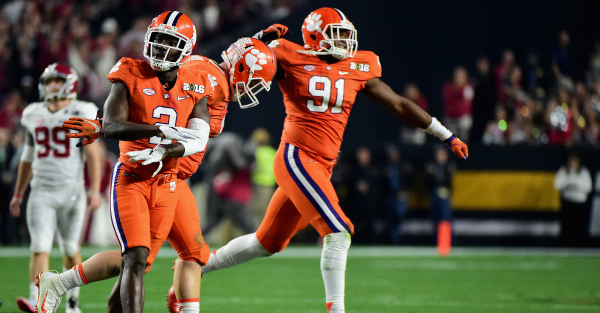 Former Clemson cornerback Mackensie Alexander is a known trash talker. He really went at wide receiver Will Fuller before the Notre Dame game and the Tigers got the better of that matchup with a 24-22 win. With both of them at the combine, it was another perfect opportunity for Alexander to get in more trash talk on Fuller.
Alexander was impressed with Fuller's 40-yard dash time — he ran a 4.3 — but he knows that speed isn't everything in this league.
"But if I take away his deep vertical game, I wouldn?t say he sucks, but ? he?s not that good. You force [Notre Dame head coach Brian] Kelly to make him go to the screen game a lot, just to get him touches. To feed him some kind of way. You want your playmakers just touching the ball."
Even though Alexander may not have quite had the stats this season — no interceptions, 23 tackles, five passes broken up — but he's still very confident in his abilities.
?I am going to say it, and a lot of you guys are saying it. I am the best corner in this draft class. You look at stats, my numbers, who I am as a person, who I am competing against, I went against the best receivers in the country. More of the top receivers of anyone in the draft class. And I was step for step. I am not just moving outside; I am going inside, I play zone, I can blitz.?

And he even explained his method of trash talking for everyone.

?My job is not to get in [a receiver?s] head. But if I get in your head, that?s on you. My job is to make you go elsewhere. I am a very patient guy. I get the m.o. that I talk a lot of trash. I don?t really talk trash ? I speak fast. I just tell you what it is and what you?re not going to do."
Don't give out your secrets, Mackensie! Now you'll have receivers knowing how to beat you before you even step on the field!