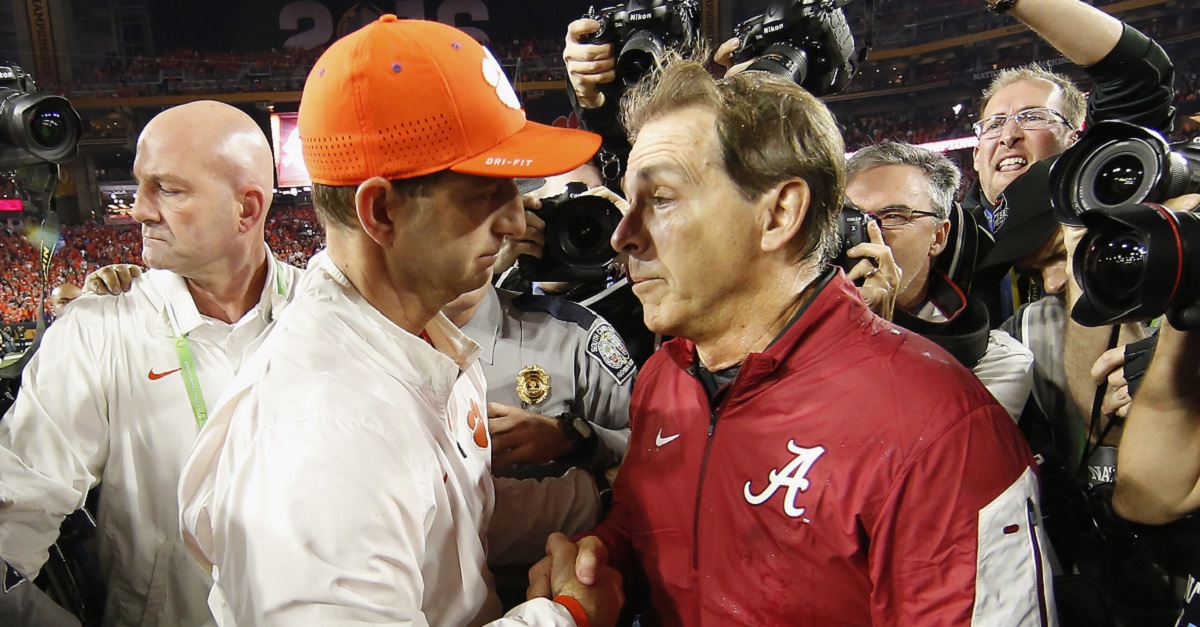 Christian Petersen/Getty Images
Photo by Christian Petersen/Getty Images
Clemson and Alabama have met in the playoffs for three straight seasons, and the two powers gave college football fans two classic games and one, well, not so classic game.
Nick Saban and Dabo Swinney have built two of the top programs in the country, and a major reason why has been the coaching staff for each team. Alabama's coaching staff will look much different next season as the Tide lost both its offensive and defensive coordinators, and one Clemson assistant coach took a jab at Alabama on Twitter after Brian Daboll left the Tide for the Buffalo Bills.
Clemson co-offensive coordinator Jeff Scott put a picture of the Tigers' coaching staff on Twitter and listed the number of years each coach has been on the staff. The Tigers have had more consistency with their coaching staff, while Saban is about to hire his fourth offensive coordinator in the last 14 months.
Related: Lane Kiffin had some pointed reactions to Nick Saban losing yet another offensive coordinator
Alabama has had a revolving door of offensive coordinators over the last few seasons, and the Tide also lost defensive coordinator Jeremy Pruitt, who took the head coaching job at Tennessee.
Dabo Swinney has mostly kept his staff intact, which has certainly helped the Tigers in recruiting and in the development of the roster. According to The Spun, Saban has lost 18 assistants in the last five years while Swinney has only lost three.
Lane Kiffin also recently took a shot at Saban after Daboll left, and other teams throughout the country will probably use Alabama's coaching turnover against them in recruiting. Alabama will still be a contender for the championship as long as Saban is around, but the coaching turnover isn't ideal for the program.