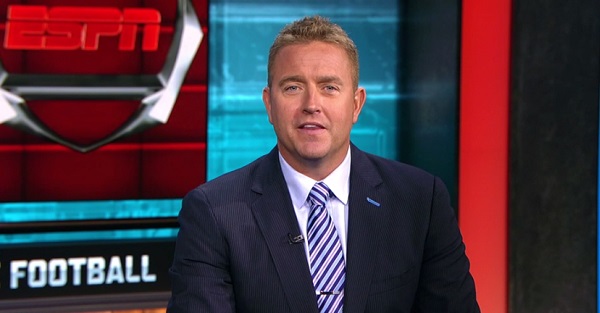 ESPN/Screenshot
ESPN/Screenshot
Alabama and Clemson will meet for the third time in the College Football Playoff and this game won't feature the likes of Deshaun Watson, Jordan Leggett or Wayne Gallman anchoring the offense for the Tigers. One of the breakout stars from this year's team is the key to breaking the 1-1 Playoff tie over Alabama according to Kirk Herbstreit.
He detailed how the quarterback play of Kelly Bryant would be the one deciding factor in the Sugar Bowl game between the two teams. Here's what he said on his "Herbstreit & Fitzsimmons" podcast:
"My big thing here, two words: Kelly Bryant. I think he will dictate how this game goes. If Clemson wins, Kelly Bryant's going to make some throws, and throws that make you go 'Woah, that's pretty good, look at Kelly Bryant go. He's proving some doubters wrong today. Look at him throw that ball.'… It's either going to be that, or it's going to be wow, Kelly Bryant, great runner, man, but Alabama's coverage was tight and he couldn't quite squeeze it into those windows, and that's what's different. They don't quite have Deshaun Watson. Kelly Bryant's a great runner, not just quite the passer that Deshaun Watson was.

If they come up a little short, he's gonna miss on some throws. And if they win, he's going to make those throws. I hate to just put it all on him, but I think everything else kind of evens itself out.

[…]

It's going to be a low-scoring, field position, special teams, turnovers, who gets the short field kind of game. But I'm telling you, if Clemson wins it's going to be because of Kelly Bryant, not his feet, his arm, and his receivers are going to make plays in the passing game.

That's the only way they win this game. If he doesn't do that, they're going to come up a little bit short. It's as simple as that."
Alabama's defense has been pretty great again this year so Bryant making plays with his arm and his feet is going to be crucial as the Crimson Tide have shown to be vulnerable against dual threat quarterbacks. Bryant is a better runner than Watson was so if he can make some throws like Herbstreit said then it should open up everything else for Clemson and give them a chance to control the tempo as well as field position.
The two teams will meet in the Sugar Bowl in New Orleans on New Year's Day for an 8:45 p.m. kickoff.
[h/t The Spun]