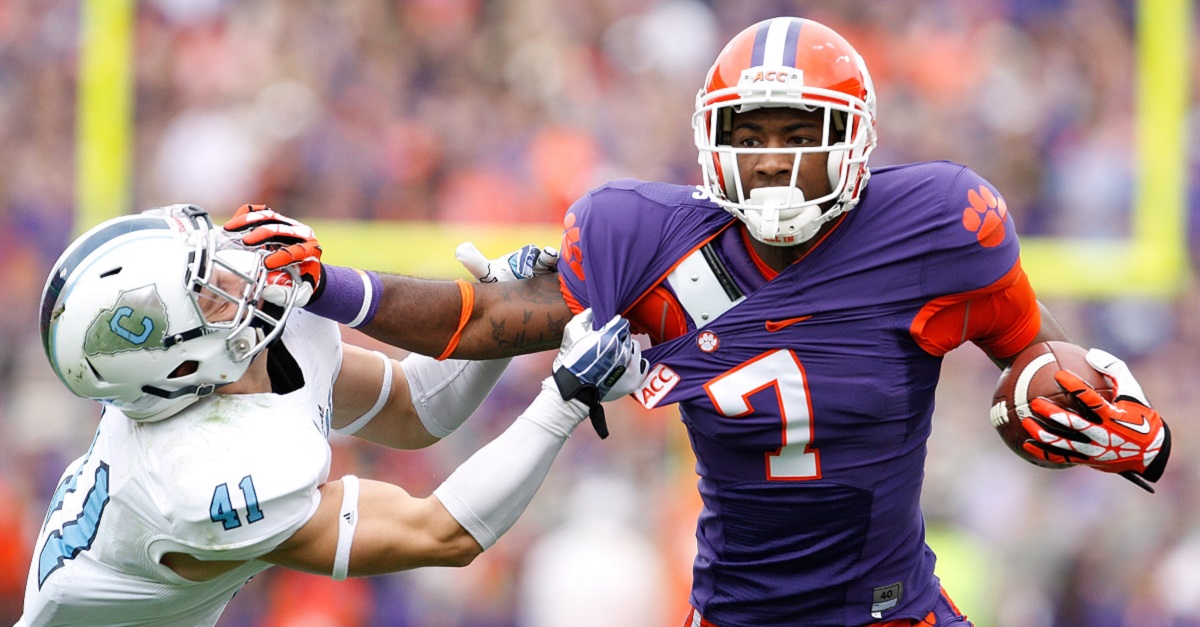 Tyler Smith/Getty Images
CLEMSON, SC - NOVEMBER 23: Mike Williams #7 of the Clemson Tigers blocks Walker Smith #41 of the Citadel Bulldogs during the game at Memorial Stadium on November 23, 2013 in Clemson, South Carolina. (Photo by Tyler Smith/Getty Images)
Clemson wide receiver Mike Williams suffered one of the more gruesome injuries last season after he was pushed into a goal post and had to be carted off the field. That was in the first week of the season against Wofford so the Tigers were pretty much playing without him all season. Fortunately, it didn't hurt them too badly as they did make it to the National Championship. They narrowly lost to Alabama 45-40, but now they've got one of their best weapons back and he might be better than ever.
RELATED: Mike Williams pushed into goal post, carted off the field
Clemson's top cornerback in Cordrea Tankersley has drawn the unenviable assignment of guarding Williams in practices so far and he has not enjoyed it one bit. He says that guarding Williams is ?the hardest thing ever. You can have the best technique down, get the best jam on him, and he?ll still make that catch. None of it matters.?
RELATED: Mike Williams finding another role to play for Clemson
Receivers coach Jeff Scott has been impressed with Williams as well and says that he might already be better than he was last year despite all the time missed rocking a neck brace. ?To be honest, he looks like he?s picked up right where he left off last year, and probably ahead of where he was last year.?
Scott also gave some Clemson fans some good news regarding his injury as he said that it isn't something that lingers. Once it's healed it supposed to be like nothing ever happened. Williams is looking forward to putting that injury all the way behind him and getting on the field again.
?I?m going to try to go out here and have fun, be another offensive weapon,? Williams said of the Tigers? season opener Sept. 3 at Auburn. ?I mean, it?s going to be a little emotional. First time getting back on the field, big game. Looking forward to it.?
[h/t The Post and Courier]