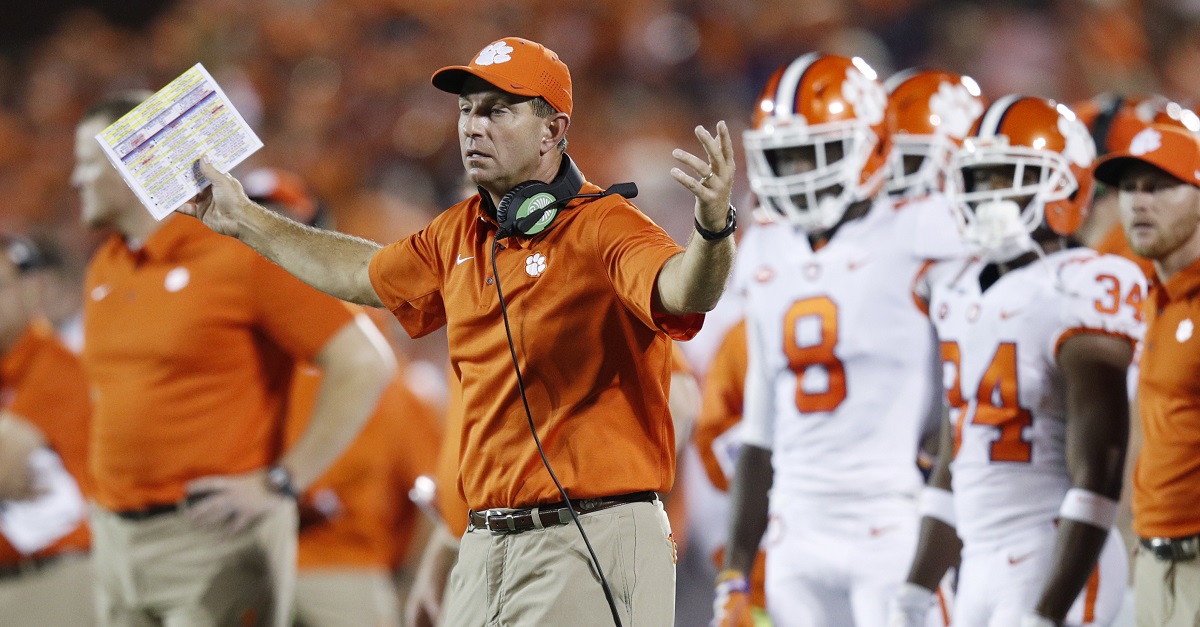 Joe Robbins/Getty Images
LOUISVILLE, KY - SEPTEMBER 16: Head coach Dabo Swinney of the Clemson Tigers reacts in the first quarter of a game against the Louisville Cardinals at Papa John's Cardinal Stadium on September 16, 2017 in Louisville, Kentucky. (Photo by Joe Robbins/Getty Images)
N.C. State went down in a very close loss to Clemson on Saturday, ultimately losing 38-31.
Before the season had you mentioned that N.C. State would play No. 4 Clemson that close, some might think you were joking, but the Wolfpack have been one of the better surprises of this season. Even after the loss to the Tigers, they sit at 6-3 and they boast wins over Florida State and Lousiville this season.
The defeat was obviously disappointing for head coach Dave Doeren, especially knowing what a win over the No. 4 team would do for his program. But Doeren was especially salty after game.
He seemed to not be all that happy with officiating, but then he pulled something out of left field, stating that Clemson was using a laptop on the sideline — which would be illegal.
Here's Doeren:
"I'd like to know why there's a laptop on Clemson's sideline that people were looking at. I'd like that to be investigated. And maybe they weren't doing anything but I was told it's illegal to have technology on the sideline, so I'd like to know that as well."
That's a big accusation from a head coach, and perhaps not surprisingly, Clemson's Dabo Swinney responded right away. Apparently, per Swinney, the laptop wasn't being used by anybody related to Clemson football. Instead, again according to Swinney, the laptop belonged to somebody on Clemson's social media team.
That answer likely won't satisfy Doeren so it will be interesting to see if he wants to continue the path towards investigation once the juices of the game and the sting of the loss settles down.
[H/T The Spun]