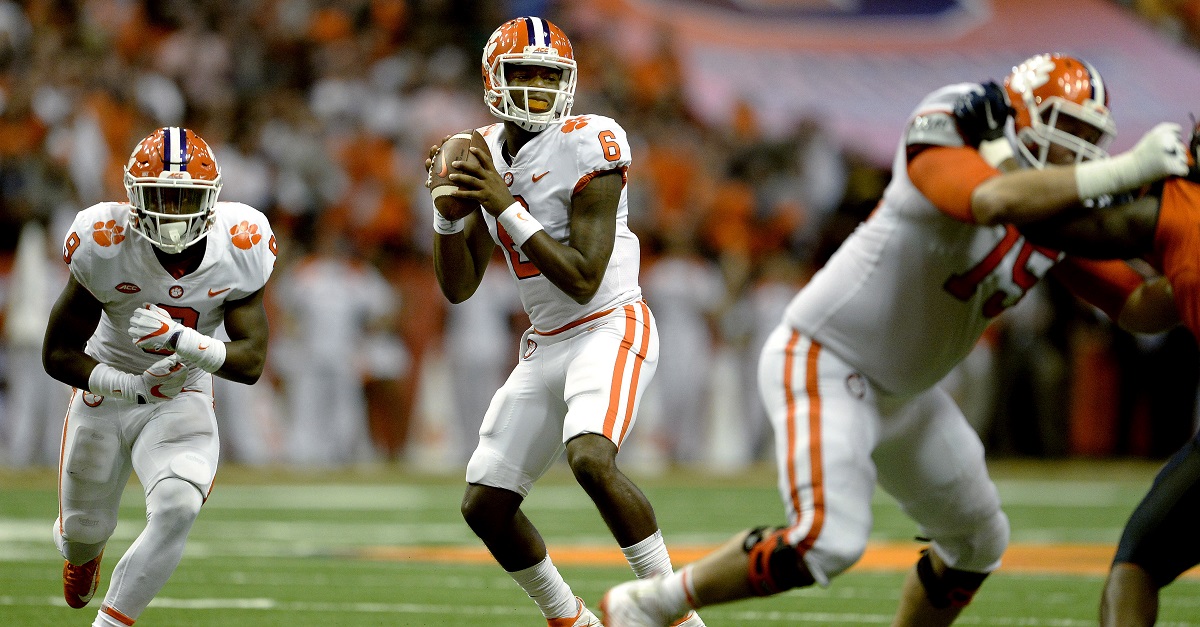 AP Photo/Adrian Kraus
Clemson quarterback Zerrick Cooper (6) stands in the pocket during the second half of an NCAA college football game against Syracuse, Friday, Oct. 13, 2017, in Syracuse, N.Y. Syracuse upset Clemson 27-24. (AP Photo/Adrian Kraus)
Clemson quarterback Zerrick Cooper has decided to transfer to Jacksonville State, he announced Tuesday on his Twitter account.
Cooper, a former four-star prospect from Georgia, announced last week his intention to transfer from the program. Cooper was in contention for the starting quarterback job at Clemson prior to last season, but head coach Dabo Swinney announced shortly before the season began that Kelly Bryant would be his starting quarterback.
Cooper served as the backup to Bryant this season and filled in for Bryant against Syracuse after Bryant was knocked out of the game with an apparent concussion. Cooper completed 10-of-14 passes in that game for 88 yards. He finished the year with 256 passing yards on 25-of-41 passing with two touchdowns.
The addition of Cooper to Jacksonville State appears to be a huge get for the program as Cooper was the No. 7 dual-threat quarterback prospect in the class of 2016, according to 247Sports.