Taking care of the football is a quarterback's top priority, and there are few signal callers in college football who take better care of the ball than North Carolina State's Devin Leary. Leary has thrown 60 touchdowns to 14 interceptions in 28 career games thus far, posting an absurd touchdown-to-interception ratio of 4.3.
When your quarterback doesn't turn the ball over, the other facets of the game fall into place. His chemistry with his receivers combined with his leadership, toughness, poise and accuracy -- which come naturally to him -- have, naturally, led to wins.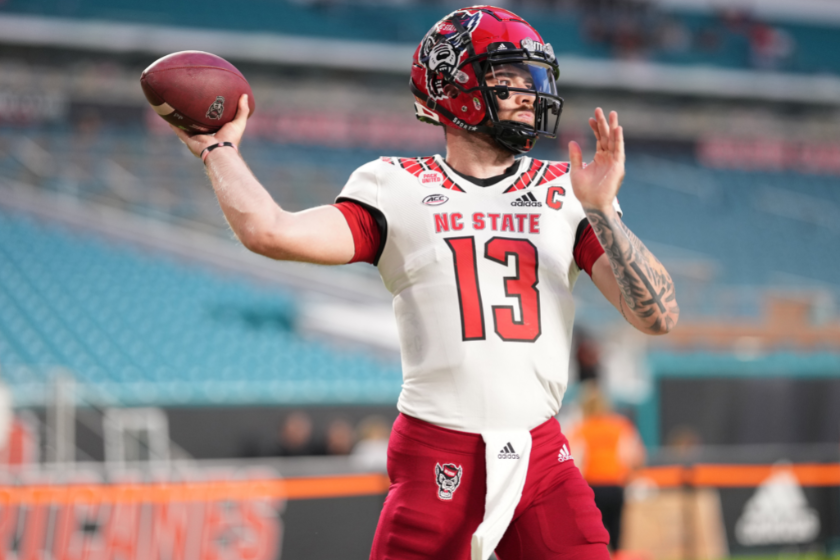 Mark Brown via Getty Images[/caption]
RELATED: Jaren Hall's Parents Raised Their Son to be a Leader, On the Field and Off
Leary's most valuable asset isn't his arm, it's his attitude. Here's a guy who's not afraid of anyone. The proof? He was calling for Clemson, the defending national champion at the time, during his redshirt freshman season in 2019.
Dabo Swinney's Tigers beat NC State decisively by a score of 55-10 that year, and it was a wake up call for Leary. He needed to walk the walk rather than talk the talk. From then on, Leary began to mold a new mindset, spending more time with the coaching staff and dissecting film. He was picking up new offensive concepts quicker. He was going through all his progressions. He was making smarter decisions.
Now, Leary's arm talent is outstanding, some comparing it to Josh Allen's, and coupled with an improved understanding of the game, he entered the upper echelon of college quarterbacks.
Have a game, Devin Leary! Big time game for the 🐺🐺🐺's signal caller@PackFootball | @ACCFootball pic.twitter.com/4ca0JZBglr

— ACC Digital Network (@theACCDN) September 25, 2022
Since becoming the full-time starter in 2020, Leary has led the Wolfpack to a 16-4 record. The most notable win was against Clemson last season in which Leary backed up his word with his effort. He'll look to do it again this Saturday in Death Valley. Clemson is currently 6.5-point favorite and eager for revenge, but you can bet on NC State's quarterback being prepared. If they're able to pull it off, they'll certainly jump up in the rankings and control their own destiny for the rest of the season.
By all means, Leary is a gamer and a guy any team would be thrilled with under center. I watch his throws and I think, "that's a nice ball," or "he's really spinning it," more often than not -- you know -- real quarterback talk.
However, his coaches and teammates watch his throws, leadership, dedication and competitiveness and think: "The best quarterback in the country."
Enjoy all things sports?
Don't miss a story! Sign up for daily stories delivered to your inbox.