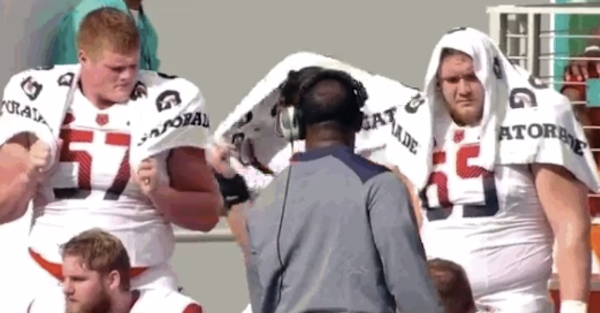 @YahooDrSaturday/Twitter
The Syracuse Orange pulled off an impressive and impactful upset over the No. 2 ranked Clemson Tigers just one week ago and that result came with a lot of praise for head coach Dino Babers. It is easy to see what Babers has already been able to do with the Syracuse program since taking over following a stint at Bowling Green, but if Saturday is any indication, Babers is not exactly resting on his laurels.
The Orange face off against the Miami Hurricanes this week and the team entered as more than a two-touchdown underdog on the field. During the first half, though, Babers was more focused on the actions of one of his offensive lineman and he was captured on camera sending a player to do push-ups in the middle of the game.
The player in question appears to be redshirt junior Keaton Darney and he wasn't exactly talking back to Babers in the midst of performing the exercise. It is clear that Babers wants discipline from his squad and that seemingly extends to not knowing where a player's helmet was in the midst of a conference game.
Dino Babers isn't fooling around and the Syracuse program seems to be better for it.