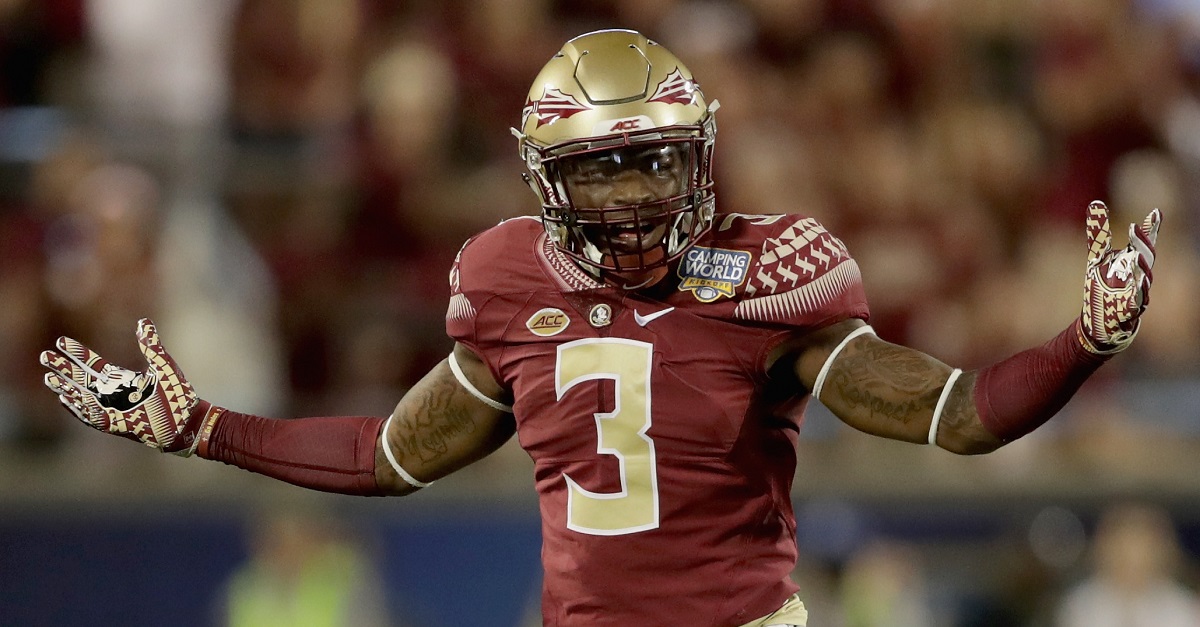 Streeter Lecka/Getty Images
ORLANDO, FL - SEPTEMBER 05: Derwin James #3 of the Florida State Seminoles reacts after a play against the Mississippi Rebels during the Camping World Kickoff at Camping World Stadium on September 5, 2016 in Orlando, Florida. (Photo by Streeter Lecka/Getty Images)
Although he was on the sidelines recovering from a knee injury that kept him off the field for most of the 2016 season, Florida State safety Derwin James was as proud of his teammates' scrappy Orange Bowl victory over Michigan Saturday as anyone else.
But the sophomore was also already looking ahead to next season and a return to action.
"Nobody likes missing football especially when I'd like to help my team out there. It was out of my control. I'm just hoping for the best out of this next year. Train harder with this offseason with my teammates, come back and have a strong year next year."
RELATED: Florida State's horse fell and tried to escape during Orange Bowl pregame
James suffered a torn meniscus against Charleston Southern Sept. 10, then missed the next 11 games after undergoing surgery. Along with rehabbing the knee, he spent the majority of the time coaching young safeties, who pretty much had to learn the defense on the fly.
"A lot of young guys had to step up fast. We were on top of the young guys, making sure they learned," James said, adding that with all their returning young talent, FSU promises to be a force in 2017. "Next year is going to be a very exciting year. We're going to be a team to be reckoned with next year."
Those young guys paired with James are going to be a formidable secondary in 2017 and should the Seminoles to an even better finish next year.