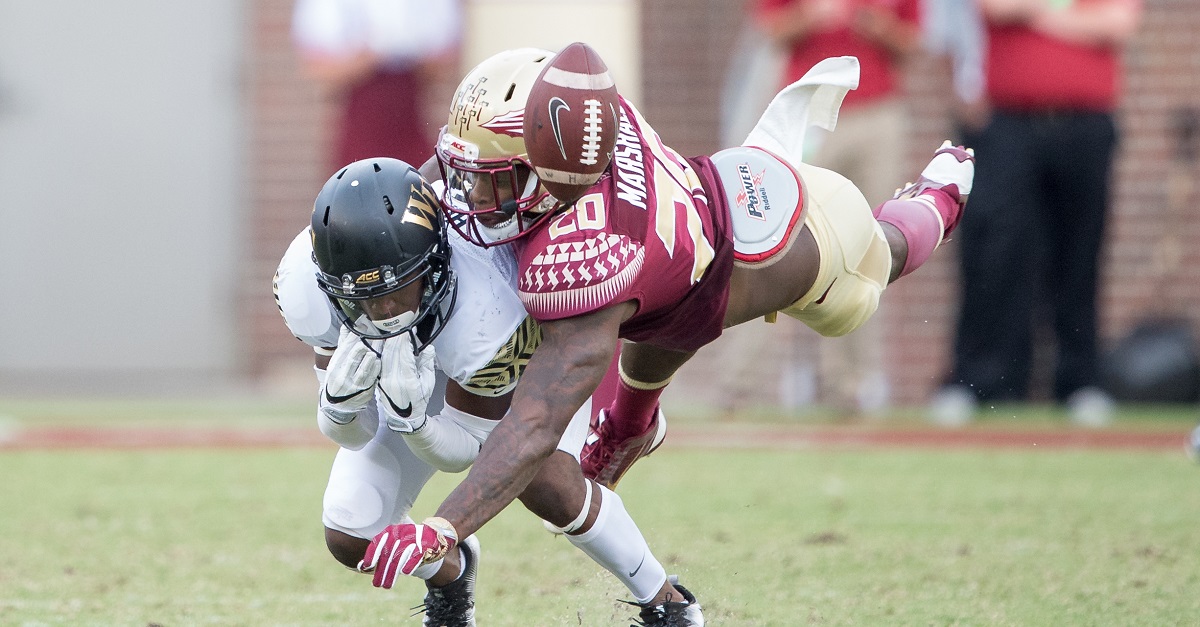 Michael Chang/Getty Images
TALLAHASSEE, FL - OCTOBER 15: Defensive back Trey Marshall #20 of the Florida State Seminoles breaks up a pass intended for wide receiver Tabari Hines #1 of the Wake Forest Demon Deacons at Doak Campbell Stadium on October 15, 2016 in Tallahassee, Florida. The Florida State Seminoles defeated the Wake Forest Demon Deacons 17-6. (Photo by Michael Chang/Getty Images)
The Florida State Seminoles have struggled on defense throughout the first half of this season and that might be an understatement. They are allowing almost 29 points a game, 155 yards rushing and 233 yards passing. All of those marks in the bottom half of the Atlantic Coast Conference.
RELATED: This normally strong defense is putting up some historically bad numbers
Of course, the defense falls under the responsibility of the defensive coordinator and in this case that's Charles Kelly who has held the position since 2014. He was the special teams coordinator on the National Championship winning team in 2013. However, that has not been enough to save him from the ire fans feel for him and his defense filled with four and five-star recruits.
RELATED: FSU could see new name on all-time sacks list
The hate is so real that someone has already started a petition to get Kelly fired. The petition was started by one Tyler King out of Gainesville, Florida so this may be a little fishy since that's the home of the rival Florida Gators, but it does have 654 people who have signed it. Here's what it says:
It has come painfully apparent over the last two seasons, particularly the first 5 games of this season, that our defense is NOT what it used to be. Kelly did OK with the remaining draft class that Pruitt left, however now that he his coaching a class HE recruited, the flaws are ever so apparent! The defensive players have no direction, no fire, no leadership or will to win, they're simply going through the motions. We need someone similar to Mickey Andrews that will light a fire under these guys tails and make the WANT to WIN! I have no doubt he is a great man, father and husband however there comes a time when enough is enough and it's in the best interest of BOTH parties to split ways! I have faith that Jimbo will fill the void with a DC who is more than qualified and passionate about the position!

Sincerely,

Nole Nation
After it gets 1,000 signatures it is going to be sent to FSU's athletic director and head coach Jimbo Fisher according to the petition.