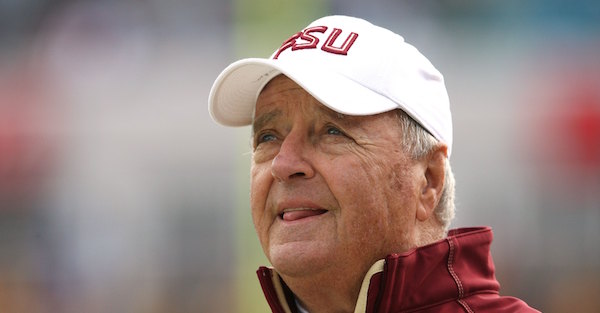 Doug Benc/Getty Images
JACKSONVILLE, FL - JANUARY 01: Head coach Bobby Bowden of the Florida State Seminoles watches his team take on the West Virginia Mountaineers during the Konica Minolta Gator Bowl on January 1, 2010 in Jacksonville, Florida. Florida State defeated West Virginia 33-21 in Bobby Bowden's last game as a head coach for the Seminoles. (Photo by Doug Benc/Getty Images)
Former Florida State and College Football Hall of Fame coach Bobby Bowden had a legendary career as an assistant and eventually head coach. He got his start with the Seminoles as the wide receivers coach and became the offensive coordinator at West Virginia shortly after. He ascended to head coach for the Mountaineers in 1970 where he led the team a winning season in all but one of the six seasons he was the head coach.
Bowden spoke with FanBuzz about why he decided to leave WVU for a Florida State program that was frankly atrocious and was struggling to win games at the time. When asked about what made him believe FSU was the right move in 1976, Bowden said it wasn't as obvious a decision as people believe.
We came one minute close to not going. We had four children attending West Virginia University. We were winnin' games and goin' to bowls. Florida State was going 0 and 11. And so why would you go down there? Strictly to go home. Ann (his wife) and I, we thought about it. They offered us the job and we wasn't even thinking about going. We can't afford to leave West Virginia with our children up here. And at the last minute we said, 'Let's go home.'

Her mother was still livin', my mother was still livin' in Birmingham. Our daddies had died didn't give us a chance to be with them for the last years of their life. We  went home because we wanted to go home.
He went on to further explain that the decision wasn't made with the intention to stay there as long as he did.
Oh yeah. A lot of them don't know that. And on top of that, they don't know I went there with the idea of getting back to Alabama. You know, not staying. As far as staying, not winning. I don't think I can build that program up. I thought I'd go down there and renew my acquaintances and then get hired back over in Alabama somehow.
The rest is history as they say and he even turned down Alabama once in 1990 when the coach at the time resigned. It only took a couple years, but Bowden became a Seminole man through and through and of course became one of the greatest coaches the sport of football has ever seen.