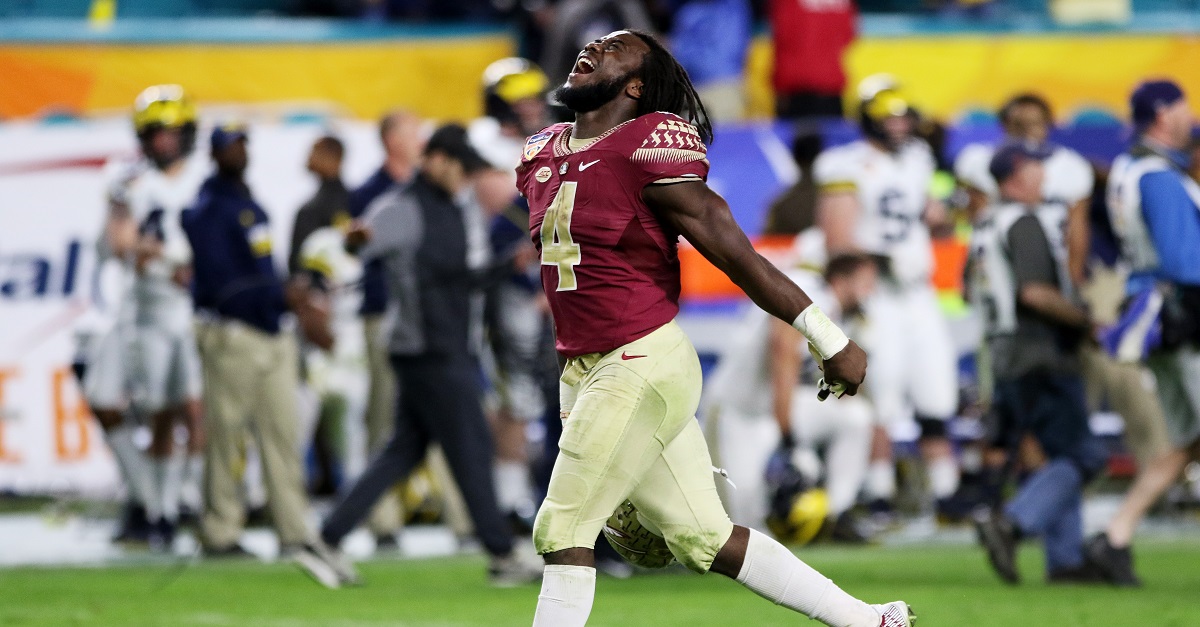 Marc Serota/Getty Images
MIAMI GARDENS, FL - DECEMBER 30: MVP Dalvin Cook #4 of the Florida State Seminoles celebrates their 33 to 32 win over the Michigan Wolverines during the Capitol One Orange Bowl at Sun Life Stadium on December 30, 2016 in Miami Gardens, Florida. (Photo by Marc Serota/Getty Images)
It was something of a nightmare season for the Florida State Seminoles, with the exception of freshman running back Cam Akers. The 'Noles landed in the Independence Bowl after a dismal 6-6 regular season and, while their match-up against Southern Miss was a favorable one, it was the play of Akers that provided real optimism for the future.
In fact, Akers set a new pace for freshman ball carriers in Tallahassee, zooming ahead of another well-known running back on the school's all-time list. Entering the game on Dec. 27, Akers needed to crack 78 yards in order to supplant Dalvin Cook on the rushing list for first-year players and he did exactly that.
A 17-yard carry in the third quarter sent Akers zooming beyond Cook on the list. Prior to the game, Akers posted 930 yards on just 181 carries for a (very) impressive average and, given the constraints on the FSU offense, that was an extremely impressive showing on the field.
Akers finishes his true freshman campaign with 1,024 rushing yards on the season.
There is a long history of running back success in Tallahassee but, when it comes to Cam Akers, no player has started on a higher note in his debut campaign.