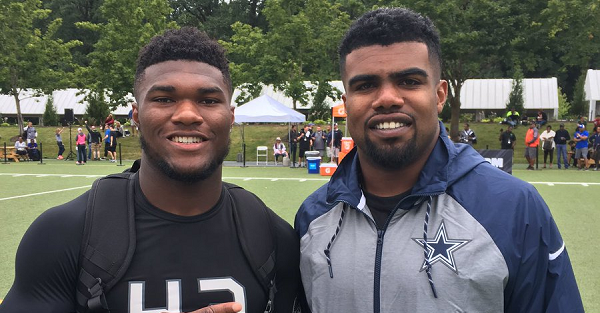 Twitter/@thereal_cam3
Twitter/@thereal_cam3
The college football season hasn't even started, but that hasn't stopped anyone from already crowning Lamar Jackson a repeat winner of the award. Las Vegas is in his favor as well as odds from February had him with 7:1 odds — tied for the best with USC quarterback Sam Darnold and Oklahoma's Baker Mayfield — and he doesn't have to face too much stiff competition in the ACC again this year.
RELATED: Sporting News' QB rankings for 2017 completely disrespected one Heisman candidate
However, one CBS Sports analyst has a shocking and potentially historic pick for Heisman this year. Ben Kercheval believes that Florida State true freshman Cam Akers will become the first of his kind to win the trophy. While there have been true sophomores and redshirt freshmen to win the award, no true freshman has won it.
Kercheval makes the case that Akers plays the right position of running back as that or a quarterback has won the Heisman every year starting in 1998. Florida State is going to be a good-to-great team, which always helps a candidate's chances and if he has a coming out party against Alabama in the first week of the season, he is going to have serious hype all season. Even if he doesn't play well, Heismans aren't won in September and he will chances on the road during the road to have marquee games like against Clemson and Florida.
RELATED: Cam Akers wins prestigious award before landing on campus
The Seminoles have also shown they can block the run well as they allowed Dalvin Cook to average more than six yards a carry. Being the top running back in the 2017 class — according to ESPN — certainly helps and he will absolutely have the chance to become the top back right away. Other candidates for Heisman this year include Mayfield, Jackson, Derrius Guice from LSU and J.T. Barrett out of Ohio State, among others.