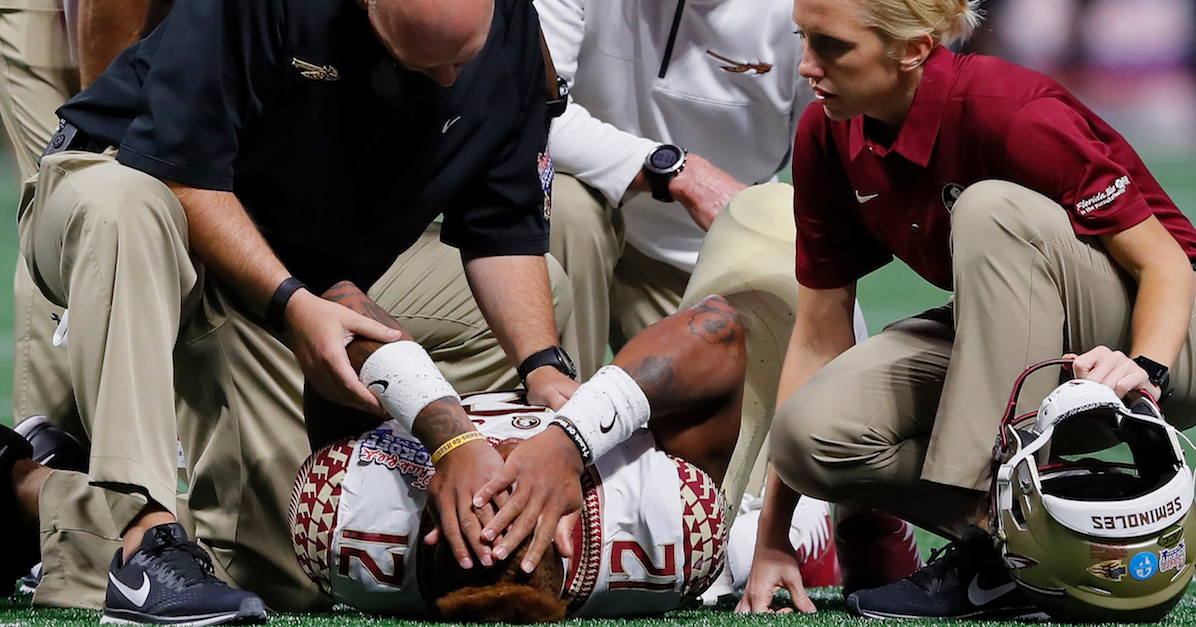 Kevin C. Cox/Getty Images
ATLANTA, GA - SEPTEMBER 02: Deondre Francois #12 of the Florida State Seminoles is attended to by medical personnel after being injured in the fourth quarter of their game against the Alabama Crimson Tide at Mercedes-Benz Stadium on September 2, 2017 in Atlanta, Georgia. (Photo by Kevin C. Cox/Getty Images)
Deondre Francois proved to be one of the toughest players in college football last year, but there's no pushing through this.
Tallahassee.com has since confirmed the injury. Francois is done for the season.
In the fourth quarter of Florida State's game against Alabama on Saturday, Francois went down with an apparent injury to his left knee after taking a hit from behind while scrambling. Francois had to be helped off the field and he was unable to put any weight on the affected leg.
Francois was eventually put in an aircast in the sideline medical tent before being carted off the field entirely.
A loss to Alabama wouldn't be the end of Florida State's season, but a significant injury to Francois could prove to be. If Francois misses significant time, freshman quarterback James Blackman is expected to take over:
Blackman is a three-star recruit from Florida.