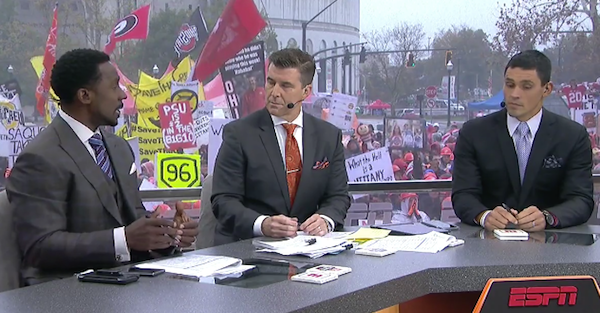 Clippit/@rajprashad
Florida State entered Friday's matchup against Boston College as nearly a touchdown favorite but any optimism for the 'Noles was short lived. Jimbo Fisher's team laid an egg in a big way and, at the end of the evening, Florida State went home with a lopsided 35-3 defeat and a dismal 2-5 record for the 2017 season.
While the Seminoles lost their quarterback early in the season, no one expected this kind of spiral. On Saturday's edition of College GameDay, Kirk Herbstreit questioned the team's mindset and, in addition, Desmond Howard had (very) strong takes on what was wrong with the Seminoles right now.
"To me, when you see a team with that type of talent and they only lose one player; that's Deondre Francois, and they just start to go in the tank. To me, they?re mentally fragile and they must have been front-runners. You don't lose to inferior opponents just because you lose you quarterback. You're still supposed to have one of the best defenses in the country and one of the best defensive players in the country. You're supposed to let that group at least carry you through games. It?s like they threw in the towel which is very, very disappointing to see."
It is hard to blame Howard for coming to the conclusion that the Seminoles are mentally fragile, as there is no rational explanation for a 32-point loss to Boston College. Of course, the FSU faithful will likely push back on this but the results speak for themselves right now and it is ugly in Tallahassee.