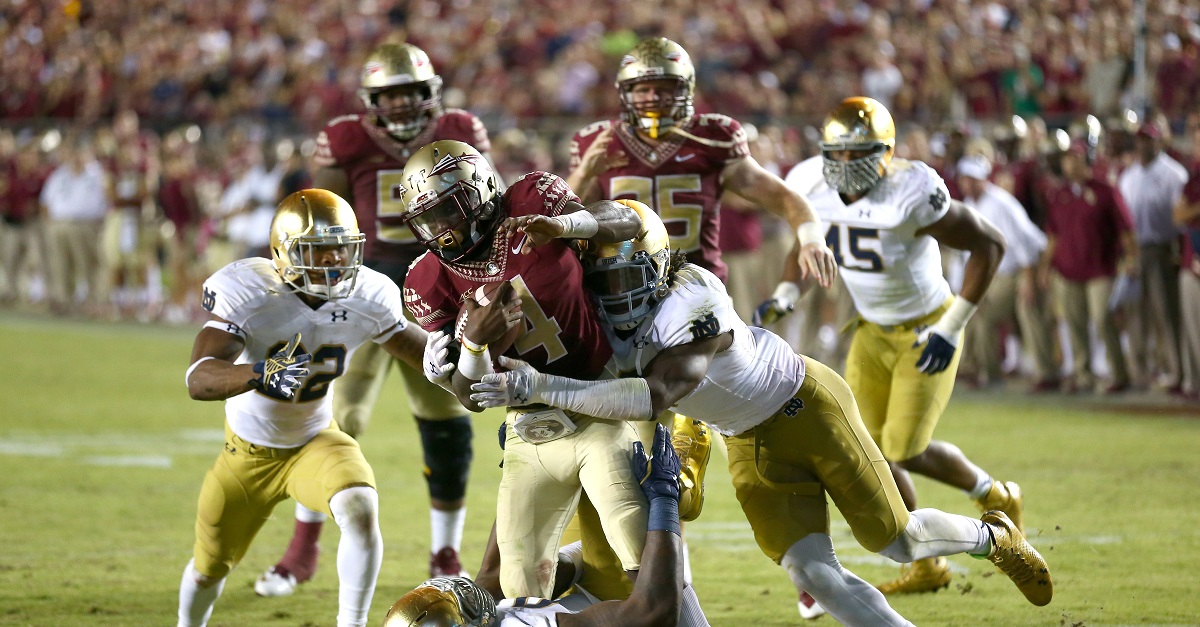 Streeter Lecka/Getty Images
TALLAHASSEE, FL - OCTOBER 18: Jaylon Smith #9 of the Notre Dame Fighting Irish hits Dalvin Cook #4 of the Florida State Seminoles during their game at Doak Campbell Stadium on October 18, 2014 in Tallahassee, Florida. (Photo by Streeter Lecka/Getty Images)
Schools generally like to plan their out of conference schedules years in advance and this latest scheduling is no different. Except that it's being made a decade to 20 years in advance. Notre Dame is only a part-time member of the ACC so they don't play a full conference slate and that makes scheduling ACC games a little easier for them.
RELATED: Fired Notre Dame DC Brian VanGorder has been hired by a new team
That's probably why Notre Dame has been able to schedule out a series with FSU all the way through 2037. The Fighting Irish will play the Seminoles five times between 2026 and 2037. The Seminoles will host in 2026 and 2029 while the Fighting Irish will host in 2030, 2032 and 2036.
The two are set to meet in 2018 and 2021 as well with the Seminoles hosting the later year. The Seminoles are 6-2 all-time against Notre Dame with their most recent win coming in 2014. The Seminoles have also won three straight since 2003.
[h/t War Chant]