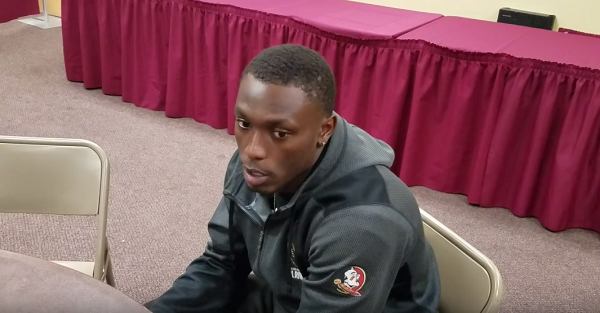 Tomahawk Nation/YouTube
Florida State survived a scare from the Miami Hurricanes on Saturday night thanks to a blocked PAT. The 20-19 score definitely had Miami fans upset in their own stadium as it was likely their best chance to get back at the Seminoles in seven years.
RELATED: FSU beats Miami for seventh straight season
The fans let their frustration boil over onto the field as they started throwing beer cans and other trash onto the field after a targeting call was made on an FSU player for almost knocking out quarterback Brad Kaaya. Kaaya ended up losing a part of his tooth on the play and was visibly shaken after that.
RELATED: Miami fans trash the field after controversial targeting call
That's not where the poor fan behavior ended though. Apparently, some fans tried to spit on FSU players on their way into the tunnel. Receiver Kermit Whitfield says that fans were purposely trying to spit at the team as they walked into the tunnels.
"They were trying to time it, so it would land right on one of us,? he said.
Whitfield led the team with 83 receiving yards on seven catches and had a touchdown during the game. Defensive end DeMarcus Walker also backed up Whitfield on the spitting fans and even said that they're the rudest fans he's ever seen.
[h/t Tomahawk Nation]