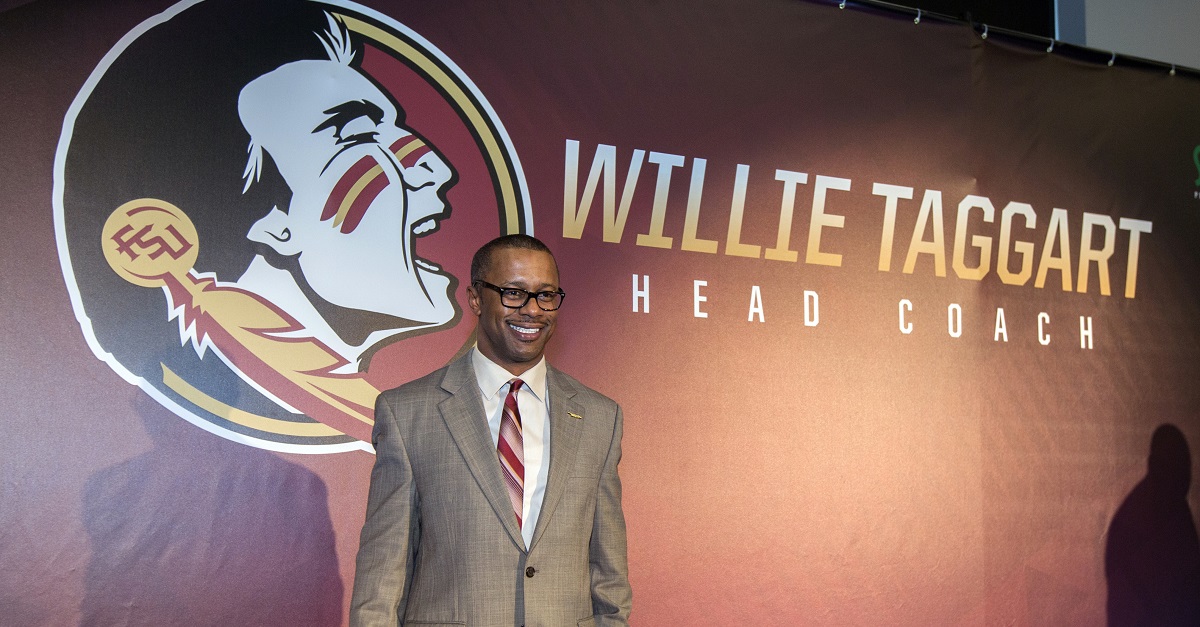 AP Photo/Mark Wallheiser
In this Wednesday, Dec. 6, 2017 photo, Willie Taggart poses after he was introduced as Florida States new football coach during an NCAA college football news conference in Tallahassee, Fla. (AP Photo/Mark Wallheiser)
Harlon Barnett made a huge move for himself this past week by skipping town on the Michigan State Spartans and joining Florida State.
Barnett joined Willie Taggart at FSU as a big part of the Seminoles' new era now that Jimbo Fisher is gone to Texas A&M and Taggart decided to switch from Oregon and the Pac-12 to FSU and the ACC. Barnett, who's 51 years old, took a promotion from Florida State, leaving his long-time position at Michigan State to become FSU's defensive coordinator.
Notably, the Seminoles gave him a better title, offering him a position as defensive coordinator and defensive backs coach. Previously for Michigan State, Barnett served as the Spartans' co-defensive coordinator, associate head coach and defensive backs coach.
He now has sole possession of a defense at FSU, and that appears to be the main reason he left his long-time gig at MSU, a position he held from 2015-17 (Barnett was MSU's defensive backs coach from 2006-2014). At first glance, one would assume that money would be a factor, but recently speaking on the radio in East Lansing, the town he'll soon be leaving, the long-time Spartans' assistant relayed that MSU actually stepped up financially in order to compete with the Seminoles.
Here's Matt Wenzel of mlive.com passing on Barnett's conversation with WQTX 92.1 FM:
"Barnett, who was the Spartans' co-defensive coordinator, associate head coach and defensive backs coach, said the decision was not financially motivated and Michigan State "stepped up" with an offer. According to a USA TODAY assistant coach salary database, Barnett made $452,570 this season while Yahoo Sports' Pete Thamel reported his new contract will be for three years at nearly $1 million per season."
Ultimately, it sounds like paycheck had nothing to do with Barnett's decision. This, despite the fact that he's now making nearly $1 million a season.
"The money part is not a big deal to me, to be honest with you," Barnett said. "It never has been, because I know that will come."
Barnett now has the money and the big-time assistant position to come with it. Whether or not he and Taggart can build something reminiscent of what Jimbo Fisher once had at FSU, and what MSU had defensively, is still to be seen, but it does seem like things are slowly but surely coming together for the Seminoles — and Barnett is a big reason why.