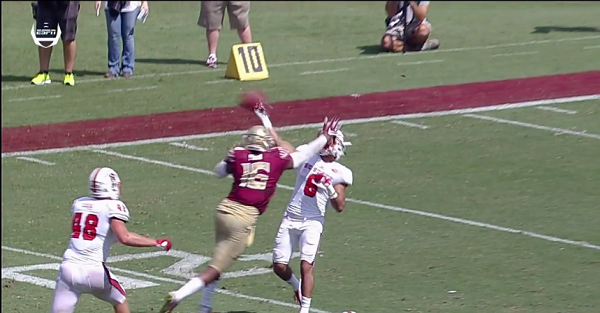 bbornstein33/Clippit
bbornstein33/Clippit
Florida State is losing to North Carolina 20-16 and is now having to play without one of its better defenders in Jacob Pugh because of a questionable — at best — targeting call against him. Here's the play in real time:
So the N.C. State quarterback threw it back to someone in the backfield, which should mean that the player is not considered "defenseless", which is a big part of making that call. And the officials on the field actually didn't flag him for anything, but the review booth came down and decided to hit Pugh with an ejection and targeting penalty after watching this replay:
I might be able to understand a facemask call, but to give him targeting there is ridiculous. What else is he supposed to do? He went up to potentially defend the pass and then tackled the player while not doing so too late. This is why the call has become so controversial and unbearable to watch at times. Pugh will now have to miss the first half of the game against Wake Forest next week.