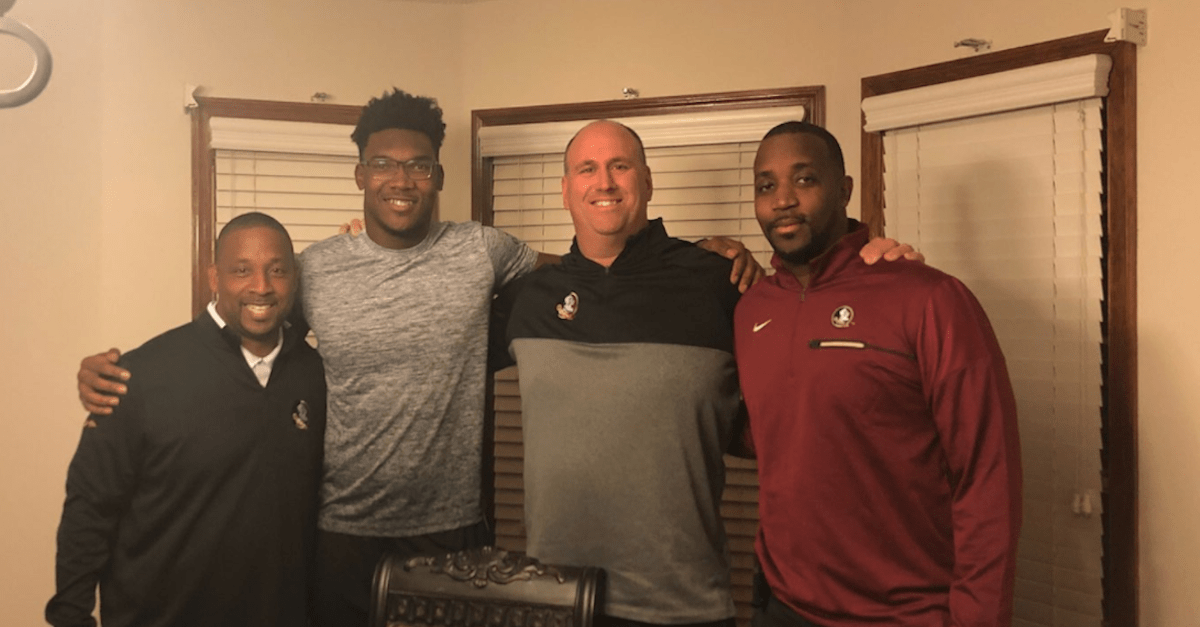 @Almighty__jayy4
Jalen Goss is currently 6-foot-7, 265 pounds. Jalen Goss could probably play small forward in the NBA if he wanted to bad enough.
Goss is huge, to say the least, but it doesn't look like his future is in the NBA. No, he probably doesn't want to hoop at that level. What we do know is he wants to play football at a high level, though, so with that in mind, it's no surprise that the three-star offensive tackle from Valdosta (Ga.) has committed to Florida State.
This is according to Goss himself, who announced his decision on Twitter:
Goss is literally and figuratively a big pick-up for new head coach Willie Taggart and the Seminoles. He's the third offensive line commitment for Florida State's 2018 class, and the 'Noles landed his commitment over the likes of Auburn, Miami, and Michigan, per 247Sports.
That's a notable recruiting win for Taggart, and he hasn't even coached a single game for FSU just yet.
If anything, Goss is exciting because of his potential. You can't teach size, and he has plenty of it. If he's able to put some muscle and weight behind him he has all the potential in the world to turn into a future NFL tackle for the Seminoles.
According to 247Sports, Goss is ranked as the No. 72 offensive tackle in the 2018 class and the No. 80 recruit from the talent-packed state of Georgia.
(H/T tomahawknation)