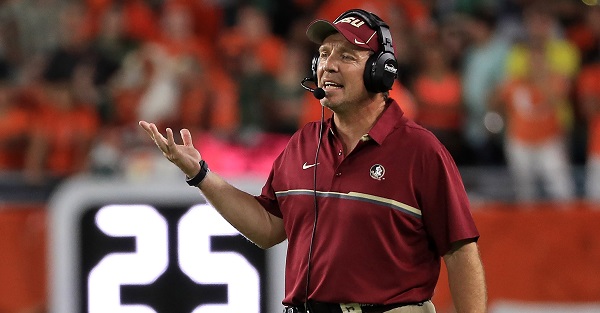 Mike Ehrmann/Getty Images
MIAMI GARDENS, FL - OCTOBER 08: Head coach Jimbo Fisher of the Florida State Seminoles looks on during a game against the Miami Hurricanes at Hard Rock Stadium on October 8, 2016 in Miami Gardens, Florida. (Photo by Mike Ehrmann/Getty Images)
New Texas A&M head coach Jimbo Fisher has coached quite a few great players in his time as a head coach. Of course, all of them came at Florida State. Now that Fisher is trying to recruit for a different school, he's showing off the fact that he's coached so many great players and his assistant coach Tim Brewster tweeted out a photo with all of the stud defensive backs that are in the NFL now.
2016 No. 5 overall NFL Draft pick Jalen Ramsey — a Seminole star in his own right — is one of the players featured in the graphic. However, he was not happy about it and even called out Fisher for not teaching him "one DB technique."
The former BCS National Champion and new Pro Bowler was clearly irked by Fisher trying to use his image and skills to promote for another school and hopefully he learned his lesson because Ramsey is not a guy who want coming after you.