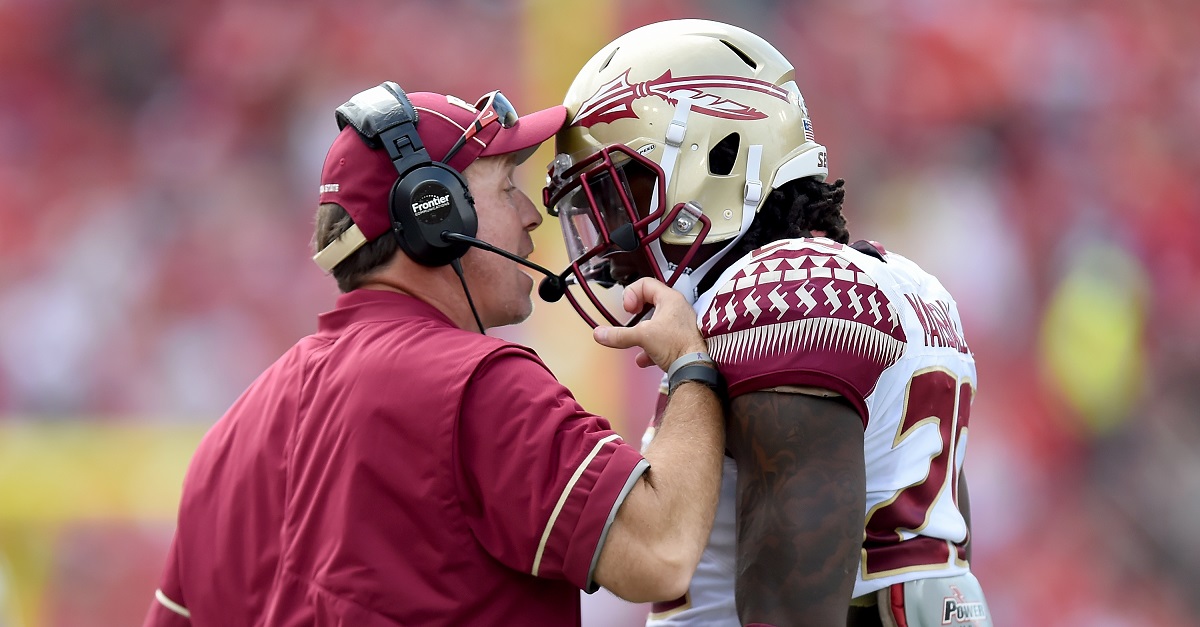 Bobby Ellis/Getty Images
LOUISVILLE, KY - SEPTEMBER 17: Jimbo Fisher, head coach of the Florida State Seminoles, talks to Trey Marshall #20 on the sidelines during the fourth quarter of the game against the Louisville Cardinals at Papa John's Cardinal Stadium on September 17, 2016 in Louisville, Kentucky. (Photo by Bobby Ellis/Getty Images)
Well, no one is probably going to be happy about this one.
Florida State head coach Jimbo Fisher confirmed on Tuesday that starting defensive back Trey Marshall will miss the first half of the season-opener against Alabama due to suspension. That suspension stems from a targeting hit that Marshall was ejected for during the 2017 Orange Bowl against Michigan.
"I think that's crazy," Fisher said, per ESPN. "You get those red cards in soccer, they don't follow you from year to year."
Fisher also said that he would be in favor of changing the rule, preventing the targeting suspensions from carrying over to the next season. Fisher may also be upset due to how controversial the call on Marshall was. Take a look.
Marshall, a rising senior, is a key part of Florida State's secondary, and he was one of the team's most prolific tacklers in 2016 with 58 total tackles. Him missing a half against Alabama could prove to be crucial, although Florida State may be able to cover for his absence on a limited basis thanks to returning defensive superstar Derwin James.
Florida State and Alabama are currently scheduled to open the new Atlanta Falcons stadium on Sept. 2 to open their respective 2017 seaons.