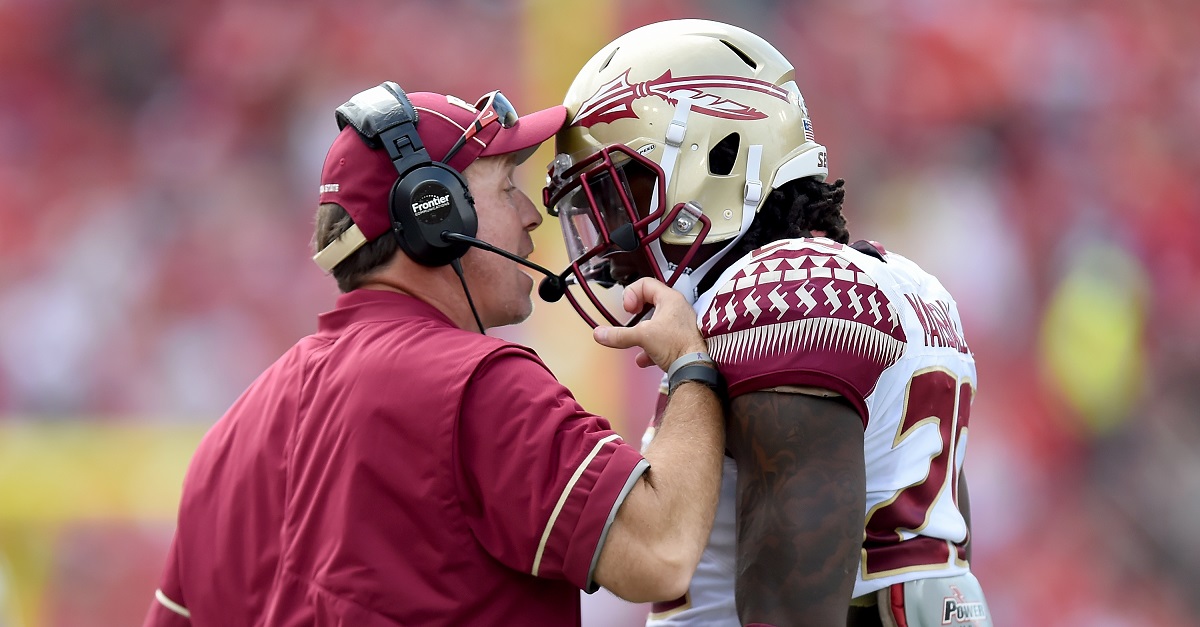 Bobby Ellis/Getty Images
LOUISVILLE, KY - SEPTEMBER 17: Jimbo Fisher, head coach of the Florida State Seminoles, talks to Trey Marshall #20 on the sidelines during the fourth quarter of the game against the Louisville Cardinals at Papa John's Cardinal Stadium on September 17, 2016 in Louisville, Kentucky. (Photo by Bobby Ellis/Getty Images)
LSU has fired Les Miles and the coaching search can start in earnest for the 2017 season. The current staff will have to keep its No. 6 recruiting class for 2017 and getting a coach early in the offseason will be a good way to do that. There are two names presumed to be at the top of the list — Houston's Tom Herman and FSU's Jimbo Fisher.
RELATED: Kirk Herbstreit gives his two favorites to replace Les Miles
Fisher knows he will be at the top of the list and knows he will be a popular guy among the fans for the job since he coached there from 2000 to 2006 under both Nick Saban and Les Miles. He addressed all the rumors about him potentially taking the job and disappointed some Tigers fan in the process.
RELATED: With Les Miles fired LSU could be looking at a familiar face to coach next season
That will definitely make some Seminoles fans feel better though. Notice how he didn't completely shut the job down though and kind of left it open for the future. So don't despair, LSU fans. He may just need to finish out the season before heading out west.