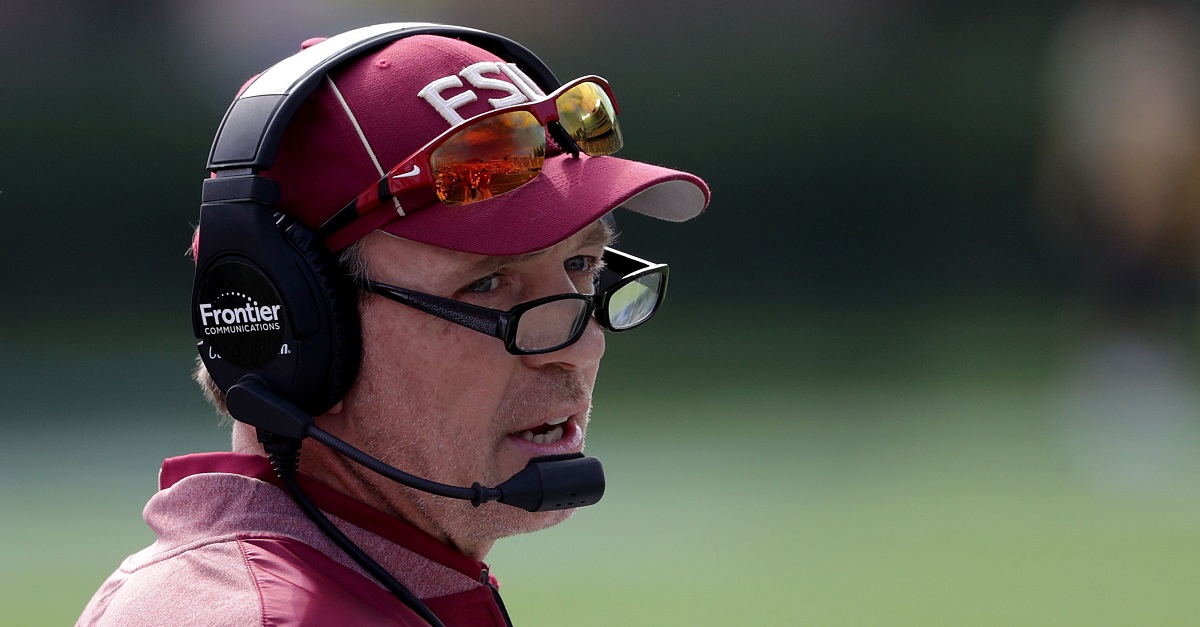 Streeter Lecka/Getty Images
DURHAM, NC - OCTOBER 14: Head coach Jimbo Fisher of the Florida State Seminoles watches on during their game against the Duke Blue Devils at Wallace Wade Stadium on October 14, 2017 in Durham, North Carolina. (Photo by Streeter Lecka/Getty Images)
Jimbo Fisher is gone but that won't stop folks at Florida State from firing shots in his direction. While the principle lure for Fisher in moving to College Station was likely the massive contract he garnered to coach Texas A&M, there was a lot of buzz that the head coach was less than thrilled with the facilities in Tallahassee. The Seminoles appeared poised to upgrade but that wasn't enough and, of course, Fisher vacated the premises.
Now, though, FSU president John Thrasher is firing back and he spoke to the Associated Press (h/t Mark Heim of AL.com) this week with a comparison to Nick Saban in what Fisher saw.
"My view of Jimbo was he wanted to model things after Nick Saban and the SEC and Alabama. I'm OK with that to a point but I'm also not going to put Florida State at risk in terms of debt and the responsibility to other programs. Him and I had an understanding about that."
Thrasher's comments were not so subtle with regard to facilities and, in addition, he directly addressed that elephant in the room.
"Our facilities are pretty good right now. They're not bad at all and Willie Taggart will tell you he wants to get kids to come here not because of the facilities but because of the education they're going to get and leadership on the field."
The reference to Fisher's replacement, Willie Taggart, is telling here and there is clearly bad blood with Fisher and Florida State. An unbiased party would likely note that the 'Noles don't have the best nor the worst facilities but, in the end, Fisher grabbed $75 million in heading to the SEC and it's tough to blame him for that.