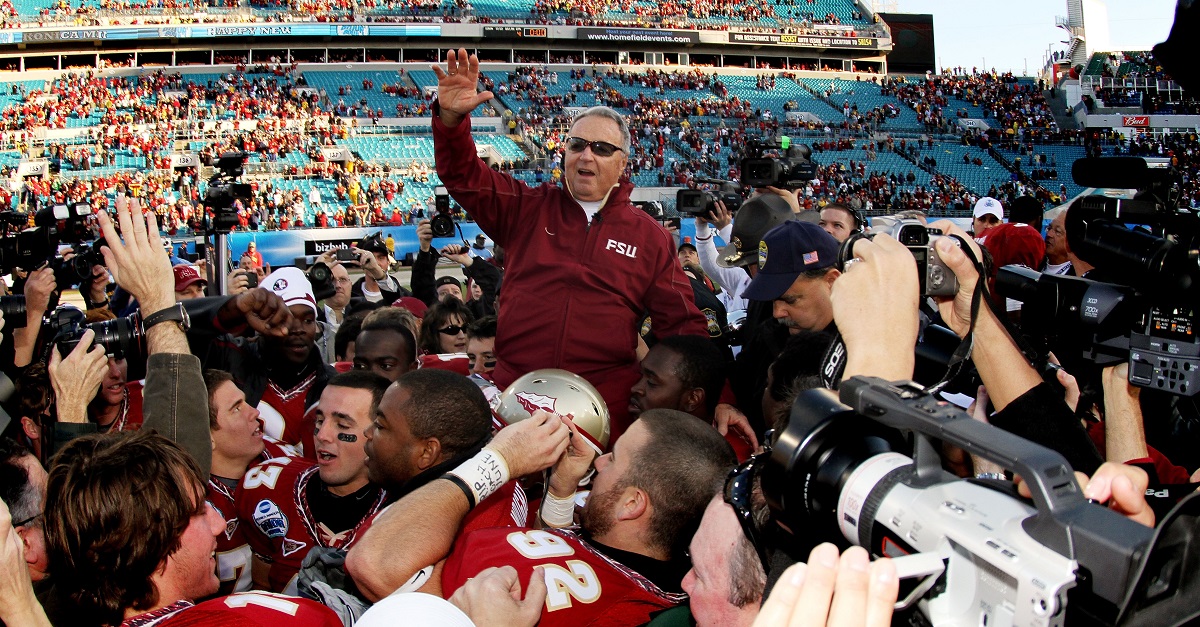 Doug Benc/Getty Images
JACKSONVILLE, FL - JANUARY 01: Head coach Bobby Bowden of the Florida State Seminoles is carried off the field by his players after defeating the West Virginia Mountaineers during the Konica Minolta Gator Bowl on January 1, 2010 at Jacksonville Municipal Stadium in Jacksonville, Florida. Florida State defeated West Virginia 33-21 in Bobby Bowden's last game as a head coach for the Seminoles. (Photo by Doug Benc/Getty Images)
Former Florida State coach and college football legend Bobby Bowden has a documentary coming out soon entitled "Bowden Dynasty." It's going to have some highs and lows throughout his time as coach of the Seminoles, but it's also going to reveal a few things some fans would rather not know.
RELATED: The trailer for "Bowden Dynasty" will give all FSU fans the chills
There's one particular detail that Florida and Miami fans are going to hate the most though. It's his secret of how he kept trouble making players on the field rather than in police stations after they committed crimes — something the school became notorious for in the 90s.
"Back in those days, when a boy gets into too much trouble it starts as a felony. If a boy has a felony, he can't play, nothing I can do," Bowden told USA Today. "So you try to get it reduced down to a misdemeanor, and unless it's a terrible thing you usually can. I think (the movie) shows how I'd give them second chances if I can. Some boys would get in trouble so bad I couldn't do nothing. I'd lose 'em. But the worst thing is I didn't want to kick them back out on the street. They don't need to be out on the street. I'd try to save 'em."
RELATED: Bobby Bowden facing criticism after awkward comments on his former players
It's certainly a noble thought, but it did also happen to keep his teams near the top of the polls during the 90s and gave Bowden two National Championships in 1993 and 1999. So make your own assumptions on his intentions, but it is an interesting quote he gave ahead of the release of the documentary.
[h/t College Football Talk]