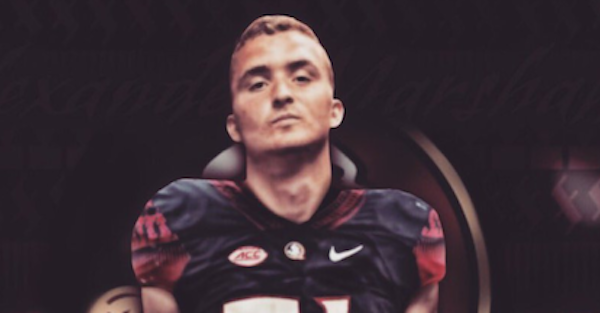 @A_marshall80/Twitter
Alexander Marshall is a three-star recruit out of Bridgton, Maine who stands at 6'7″, 240 pounds.
Marshall had 29 offers from top-tier programs such as Alabama, Ohio State and others, but he landed with Florida State.
The recruit, nicknamed "mini Gronk," made the switch from lacrosse to focusing solely on football just a few years ago, according to Scout. From his tape, he seems like a natural athlete, with smooth routes, an ability to track the football and good hands.
The only real gap in his skill set, as most athletes his size, is his blocking needs development, per Scout.
According to Tomahawk Nation, Marshall is only a three-star recruit due to his "extreme body size advantage."
Here's more:
"I've spoken with multiple coaches (FSU and non) who tell me not only are there not 27 better tight ends nationally, but there aren't five, either. A couple actually said he was the best tight end in the country. The ability to run and control such a tall body is impressive, they say. And Marshall plays with tenacity."
Rob Gronkowski is 6'6″, 265 pounds, so it won't take much for Marshall to gain at least the size to shed the "mini" part of his nickname and eclipse the real man himself.
If he can put on some weight and develop his skill set, he may develop into a true playmaker.
Jimbo Fisher and Co. are certainly banking on it.