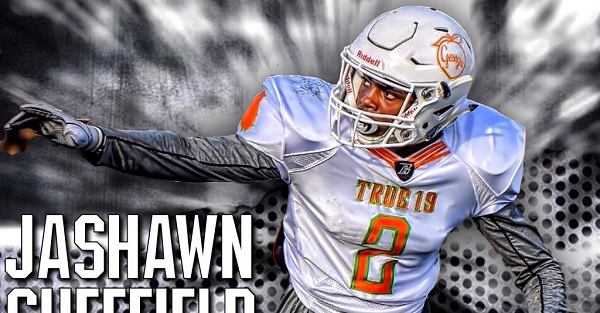 Twitter/@Jashawnsheff
Jashawn Sheffield is a four-star receiver out of St. Simons, Ga. and he just took a visit to Tallahassee to see the Seminoles this weekend. He told 247Sports that FSU felt like home and that his mom enjoyed the trip too.
"Florida State is number one right now. I never brought my mom to a visit and had her like it as much as I did – she actually liked it more than I did. That really made me happy inside. Tallahassee kind of feels like home," he said.
RELATED: FSU lands two recruits out of Georgia for 2019
The Seminoles landed two other four-star recruits in the class of 2019 last weekend in safety Kenyatta Watson Jr. and offensive tackle Wanya Morris so Sheffield could become the third recruit out of Georgia to join them in the class. The 6'1″, 178-pound Sheffield is ranked as the No. 5 receiver in the country by 247Sports and definitely sounds like an FSU lean.
He's also planning on visiting Miami later in the month and currently holds offers from Clemson, Ohio State, Alabama, Georgia, Auburn and Florida among others. The 247Sports crystal ball has 91 percent of its predictions with FSU and the other nine percent with the Buckeyes.
Here's some of his highlights: